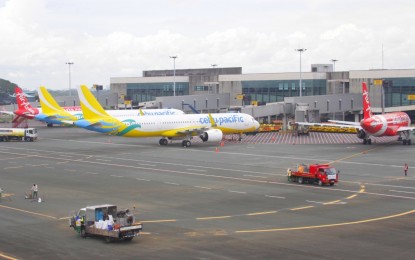 MANILA – Low-cost airlines AirAsia Philippines and Cebu Pacific (CEB) are backing calls to scrap the One Health Pass (OHP), saying some alternatives may be considered.
"As we head towards a strong air travel rebound, our passengers deserve a more convenient, reliable and hassle-free customer journey without sacrificing the safety net in our day-to-day operations," AirAsia spokesperson Steve Dailisan told the Philippine News Agency.

Senator Nancy Binay on Monday called on the lifting of the OHP, citing this has become impractical and inconvenient for many.
Passengers bound for the Philippines are required to register to the OHP, which Binay said has been a hassle to many returning Filipinos and overseas workers because this only adds to the screening procedures even if they are already quarantine-cleared and fully vaccinated with boosters.

The senator said overseas Filipino workers have been complaining that the process of verifying the OHP has led to long lines in the country's airports.

This was also observed by Carmina Romero of CEB. "Usually, there is a line of passengers who are unaware of the OHP, in check-in counters in our international destinations. I am sure they were sent an email about (OHP registration), but some passengers don't read notifications," she said.

Romero noted that OHP registration is also not easy for many, especially foreign travelers.

"It is not easy for them to tick the boxes about specific details of their destination in the Philippines, such as which National Capital Region district, which barangay. A foreign national usually has a hard time answering that," she said.

She said without the OHP, a foreigner could instead be made to fill out an arrival card before landing. A returning Filipino, on the other hand, needs to prove that he or she is fully vaccinated or boosted against Covid-19.

"Maybe we should start considering these too," Romero said.

Dailisan, meanwhile, said AirAsia supports initiatives that will enable seamless travel among its guests, such as a unified electronic arrival card system that is customer friendly and accessible for arriving passengers. (PNA)