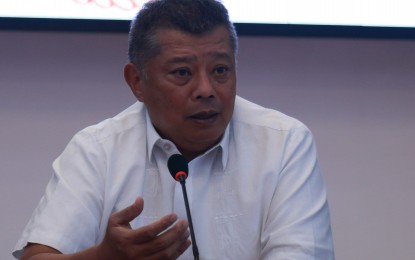 MANILA – The government will continue to go after insurgents and those who aid them in efforts to overthrow the government, Department of Justice (DOJ) Secretary Jesus Crispin Remulla said Thursday, as he announced the conviction of a key member of the New People's Army (NPA) charged with rebellion.
"Rebellion and aiding it is a crime. Those who commit the same should suffer its consequences." Remulla said in a statement as he commended state lawyers who successfully prosecuted the case against Dionisio Almonte before the Taguig regional trial court branch 266.
In its decision promulgated last September 16, the Taguig court sentenced Almonte alias Inol/Noli/Leo to suffer the indeterminate penalty of up to 17 years imprisonment for his part in attacks against members of the Philippine Air Force (PAF), Philippine Army (PA) and the Philippine National Police (PNP) in Quezon province in 2005 to 2006.
Almonte and his group were accused to be behind the bombing of a Globe cell site tower located at Barangay Piis, Lucban, Quezon; the killing of SPO3 Clarito Ilao and the wounding of five other police officers during an encounter; an ambush on members of the PA resulting in the death of Pfc. Eric Consulta, Pfc. Rey Surada, and Pfc. Ruel Abino and the wounding of eight other Army officers; an attack on PA officers resulting in injuries to four Army officers; an ambush on PA officers causing the wounding of two Army officers; and an attack on PA officers causing the death of Ssgt. Ernesto Baniel and the wounding of another PA officer.
The Court said, "the prosecution was able to prove the fact of public uprising and taking arms against the government as the prosecution's witnesses categorically testified of their experience and encounters with the rebel group -- NPA."
The Court said the witnesses testified that there was public uprising and taking up of arms on different occasions. They also narrated that during those encounters, the armed men shouted "Mabuhay ang NPA, Mabuhay si Ka Roger, Mabuhay and Kilusan."
The witnesses also identified Almonte during videoconference hearings as among the NPA members whom they encountered.
The defense of alibi posited by accused Almonte and his wife, Gloria, that they were in Malabon working in a bakery during the period of November 19 to 26, 2005 did not convince the Court.
"The defense of alibi may not prosper if it is established mainly by the accused-appellant himself and his relatives, and not by credible persons," the Court said.
"Furthermore, for the defense of alibi to prosper, the accused must prove not only that he was at some other place at the time of the commission of the crime, but also that it was physically impossible for him to be at the locus delicti or within its immediate vicinity," the Court stressed in its decision. (PNA)