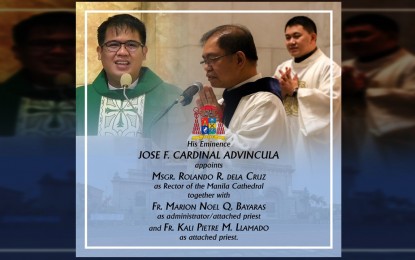 MANILA – The Minor Basilica and Metropolitan Cathedral of the Immaculate Conception, popularly known as Manila Cathedral, has a new rector.
In an advisory at the website of the Roman Catholic Archdiocese of Manila (RCAM) on Thursday, Manila archbishop Cardinal Jose Advincula has appointed Monsignor Rolando dela Cruz as the cathedral's new rector.
He also named Fr. Marion Noel Bayaras as administrator and attached priests together with Fr. Kali Pietre Llamado.
Dela Cruz thanked the cardinal for his new role.
"I wish to thank His Eminence Jose Cardinal Advincula for entrusting me with God's flock that worships and serves at the Cathedral-Basilica of the Immaculate Conception, a responsibility which I take with humility. I pray that the Lord will give me the wisdom and the heart to lead his people to Jesus and His Mother," he said in a statement.
Dela Cruz also thanked parishioners of the San Fernando de Dilao Parish which he served for more than 12 years.
"We had been through many tests. Through you, I experienced the loving embrace of God. With you, I faced the challenges of the ministry with faith. You are no longer just parishioners; you have become friends in the Lord. Please continue praying for me as I go to my new and very challenging assignment," Dela Cruz added.
At the same time, he said he is excited to meet the faithful in Intramuros.
"To the community of the Manila Cathedral, though I am fearful, I am also excited to be with you soon. I ask you to pray for me that I may be a good shepherd after the heart of Jesus Christ," the new rector of the minor basilica added.
The new appointments of the clergy of Manila will take effect between Nov. 14 to 25.
Aside from the three priests, 222 other clergy members were also given new assignments.
On the other hand, Fr. Reginald Malicdem, former rector of the minor basilica in Intramuros, Manila will be the new chaplain of Our Lady of Hope Landmark Chapel and SM Makati Chapel, both in the City of Makati.
He was appointed by Cardinal Luis Antonio Tagle to head the Cathedral in 2015. Prior to his appointment, he served as the secretary of the former Manila archbishop.
Malicdem is also the Archdiocesan spokesperson. He was named to the post by Advincula early this year. (PNA)