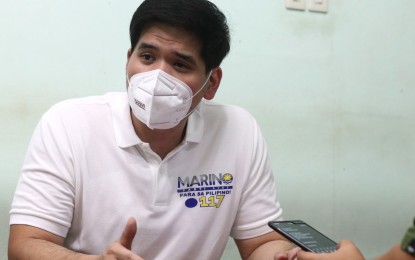 MANILA – Marino party-list Representative Sandro Gonzalez on Thursday expressed his utmost support for the creation of a 10-year Maritime Industry Development Plan (MIDP) which aims to facilitate and secure more job opportunities for Filipinos, especially seafarers.
This came after President Ferdinand "Bongbong" Marcos Jr. ordered the Maritime Industry Authority (MARINA) to create MIDP programs such as the establishment of the maritime industrial hub and the development of maritime tourism, safety, security, and maritime information and communication.
"The call of President Marcos, Jr. to enhance the maritime sector and improve our ports align with the legislative measures that MARINO is working on in Congress. With a long-term and sustainable MIDP, more job opportunities await our Filipino seafarers," Gonzales said in a statement.
The country's maritime industry is currently facing various challenges, particularly deficiencies in compliance with the International Convention of Standards of Training, Certification and Watchkeeping (STCW) found by the European Maritime Safety Agency and the International Maritime Organization (IMO).
"Our sector needs a feasible plan now and have the MIDP fully implemented under the Marcos administration to secure its continuity. It is a potential solution to the recurring deficiencies of our industry so we can focus more on our highly skilled seafarers and budding shipping industry," he added.
Among the bills filed by the party-list which are aligned with the goals of the MIDP are the Magna Carta of Seafarers Bill, Harbor Pilotage Bill, and the Maritime Education and Training Bill.
Gonzales also said the party-list will retain its strong support for MARINA's initiatives that can improve the lives of Filipino seafarers and will remain critical as to issues that highly affect the sector.
"We deeply value the fact that President Marcos included the maritime industry in his priority areas as it is a great contributor to the economy if properly maintained and managed," Gonzalez said. (PNA)