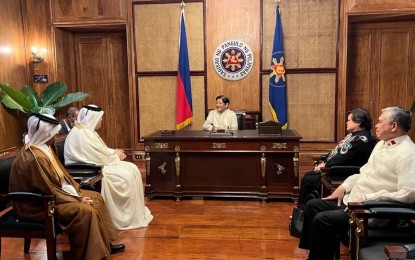 MANILA – President Ferdinand "Bongbong" Marcos Jr. on Thursday thanked Qatar Ambassador to the Philippines, Dr. Ali Ibrahim Al-Malki, for his successful tour of duty in a farewell call at Malacañan Palace.
Marcos shared photos of the event on his official Instagram account.
Al-Malki started serving as Qatar envoy to the Philippines on May 24, 2016.
During his stint, Al-Malki pushed for efforts to increase cooperation and trade exchange between Qatar and the Philippines.
Last week, he also joined Vice President and Education Secretary Sara Duterte in distributing school materials to daycare learners at a gift-giving event in Mandaluyong City.
Al- Malki has attained several promotions up to the level of Ambassador Extraordinary and Plenipotentiary since 2016.
Prior to being named Qatar envoy to the Philippines, Al-Malki was vice-permanent representative of the state of Qatar in the United Nations Educational, Scientific and Cultural Organization (UNESCO) from 2011 to 2013.
He also served in the Embassy of the State of Qatar in Lebanon from 2013 to 2015 and the Embassy of the State of Qatar in France from 2008 to 2013.
Al-Malki was also a director at the Assistant Minister of Foreign affairs office.
Photos from Marcos' Instagram also showed that he received the credentials of newly-appointed ambassadors from Norway, Denmark, Turkey, and Spain.
Ambassadors Christian Halaas Lyster of Kingdom of Norway, Franz-Michaeel Skjold Mellbin of Kingdom of Denmark, Niyazi Evren Akyol of Republic of Türkiye, and Miguel Utray Delgado of Kingdom of Spain were pictured signing a guestbook, handing their credentials, and meeting with Marcos and other officials.
Malacañang has yet to release details about the farewell call and presentation of credentials. (PNA)