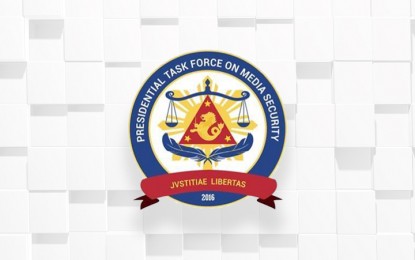 MANILA – The Presidential Task Force On Media Security (PTFOMS) is looking into the death threats received through social media by TV5 journalist Ed Lingao and anchor Lourd de Veyra.
Office of the Press Secretary (OPS) officer-in-charge Cheloy Garafil said the PTFOMS has already talked to Lingao and de Veyra to discuss their safety and security.
The OPS serves as the co-chair of the PTFOMS, along with the Secretary of Justice.
The PTFOMS continuously reminds all journalists, broadcasters, and media practitioners to report any incident of threat and harassment so that the matter can be thoroughly and swiftly investigated.
"It must be stressed that the PTFOMS does not tolerate any incident of threat or violence committed against journalists and it is compelled to act immediately on every incident. The State response to such complaints is both immediate and immense. All are given utmost importance," the PTFOMS said in a news release on Thursday.
The PTFOMS is an inter-agency task force created pursuant to Administrative Order No. 1 - Series of 2016 with a devoted mandate to safeguard media freedom by protecting the life, liberty and security of members of the press.
The PTFOMS is unique for being a task force directly under the supervision of the Office of the President, giving media workers direct access to the highest executive office in the land to air their grievances.

In the recent 2021-2022 "World Trends in Freedom of Expression and Media Development Global Report" released by the United Nations Educational, Scientific and Cultural Organization (UNESCO), it highlighted the Philippines as among the very few countries that have undertaken "good practices and positive measures" in the safety of media workers, including the establishment "a special task force for the safety of journalists," now being emulated by other countries in the world.
The PTFOMS can be reached via Messenger through its official Facebook page or telephone number at (02)82498310. The PTFOMS can also be contacted through its Media Security Vanguards composed of all Public Information Officers (PIO) of the Philippine National Police (PNP) nationwide. (PR)