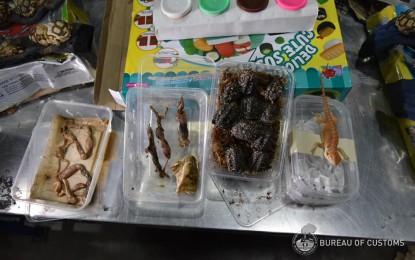 MANILA – Two illegal traders of wildlife species will have to spend some time behind bars after their recent conviction by the Metropolitan Trial Court of Pasay City.
In a statement on Saturday, the Bureau of Customs-Ninoy Aquino International Airport (BOC-NAIA) and the Department of Environment and Natural Resources (DENR) said the duo were sentenced to 10 days to a maximum of seven months in separate decisions on September 22 and October 4.
The two traders, whose identities were not disclosed, violated Republic Act Nos. 9147 (Wildlife Resources Conservation and Protection Act) and 10863 (Customs Modernization and Tariff Act).
One earned a 10-day sentence and a fine of PHP26,000 for smuggling 10 heads of tarantulas worth approximately PHP75,000 that were declared as origami, the Japanese paper art.
The other, who claimed a parcel containing 41 different kinds of wildlife species declared as toys on May 28, will serve up to seven months and pay PHP125,000 in fines.
The wildlife species include the sulcata tortoise, black pond turtle, bearded dragon, corn snake, and savannah lizards with an estimated value of PHP284,000.
All parcels had no required licenses and import permits from the DENR.
"The conviction manifests the commitment of the BOC and the DENR to penalize smugglers of illegal goods and contrabands; and serve as a deterrent and warning to others engaging in similar unlawful activities. We commit to enforce our mandates on border protection, trade facilitation, and revenue collection and ensure continuous collaboration with other agencies aligned with the directives of President Ferdinand Marcos Jr.," the statement read. (PNA)