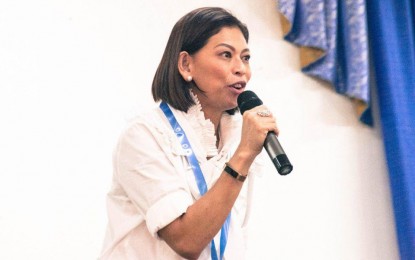 MANILA – Marikina 2nd District Rep. Stella Luz Quimbo on Tuesday called on fellow lawmakers in the House of Representatives to help bring back the lost glory of the country's footwear industry.
Quimbo made the call in a sponsorship speech for House Bill (HB) 491 or "the Philippine Footwear, Leather Goods, and Tannery Industries Development Act of 2022".
She said her hometown Marikina City, tagged as the "Shoe Capital of the Philippines", was once renowned for exporting fine, durable, and elegant shoe products around the world.
Speaking before the House Committee on Creative Industry and Performing Arts, Quimbo traced the beginnings of the Marikina shoe industry to Kapitan Moy Guevarra, who in 1887 "reverse-engineered" and disassembled a pair of imported shoes to learn how to make a pair himself.
His business prospered and his neighbors began making shoes as well.
The local industry, she said, boomed in the 1970s, and she remembered exporting snake-skin shoes to New York and other cities in the United States.
"Ganyan naging tanyag ang sapatos na gawang Marikina (That's how Marikina-made shoes became famous). However, when we had to liberalize our economy in the 1990s, there was a massive displacement within the industry," she said. "And this is due to the fact that we were not strong enough then to compete against foreign imports."
By the 2000s, Quimbo said the country's local shoe industry saw intense competition with imported Chinese footwear.
"When the pandemic came two years ago, many shoe business owners, including myself, had to close shop because school kids and office people didn't need leather shoes anymore, and footwear was not considered an essential business," she said.
Vital part of PH economy
The lady lawmaker expressed belief that the footwear, leather goods, and tannery industries are vital parts of the Philippine economy and they have enormous economic potential.
In fact, she said, from a gross value added of PHP8.65 billion in 2000, this grew to PHP15.82 billion in 2019, before the pandemic hit.
However, the figure went down to PHP11.79 billion in 2020 and further down to PHP11.64 billion in 2021 due to the pandemic, she added.
Quimbo said the government rightly saw the potential of these industries that led to the enactment of Republic Act (RA) 9290 or "the Footwear, Leather Goods and Tannery Industries Development Act" to strengthen them so that they could fare well in a liberalized economy.
"Kumbaga, sasabak sa laban ng foreign competition ang mga sektor na ito, kaya binigyan ng armas ng gobyerno. Dahil kung walang suporta mula sa gobyerno, tiyak, dead on the spot ang industriya ng sapatos (It's like the sector is putting up an intense competition with foreign products so it was given arms by the government. Because without government support, the local shoe industry would surely be dead on the spot)," she said.
However, she said the provisions of the law seemed to have become unresponsive to the needs of the covered industries as time passed by.
RA 9290 was overtaken by events when RA 11534 or the Corporate Recovery and Tax Incentives for Enterprises Act (CREATE) was passed into law in March 2021 because this also provides for the fiscal incentives contained in RA 9290
These issues led Quimbo to file HB 491 to promote and support the growth of such industries, especially in footwear.
"We need an industrial policy post-CREATE Law, and this bill paves the way forward. To this end, House Bill No. 491 has provisions on non-fiscal incentives that will complement the CREATE law. For instance, industry players will be given preferential access to credit through low-interest loans from Landbank, DBP (Development Bank of the Philippines), and the Small Business Corp. Other support includes marketing and promotional campaigns, green lane servicing in government transactions, and access to foreign markets," she explained.
Quimbo saw the importance of promoting import substitution.
"Meaning domestic firms should be able to produce and compete against what we frequently import and eventually export to the world market. This is the economic philosophy behind this bill," she said.
"Pangarap namin na bumalik ang dating sigla ng Marikina shoe industry, kung saan umaabot sa kabilang dako ng mundo ang ating dekalidad na produkto. Dapat matatag ang industriya ng sapatos sa Pilipinas para hindi na natin angkatin pa ang sapatos na kayang-kaya naman gawin ng Pinoy. Magandang humabol sa Vietnam na Top 2 exporter ng sapatos sa mundo. (We dream of reviving the old glory of the Marikina shoe industry, where these shoes reached the other side of the world. The Philippines' shoe industry must be strong enough so that we won't have to import shoes as these can be made by Filipinos. It would be better if we would be able to catch up with Vietnam, which is now the second top exporter of shoes in the world). House Bill No. 491 is key to this endeavor."
Incentives
Quimbo also said the bill seeks to address the limitations of RA 9290, which has been perceived as benefitting Micro, Small, and Medium Enterprises (MSMEs) only, because the implementing rules and regulations provide that only those considered as small and medium-scale enterprises could qualify for its incentives and programs.
The bill broadens the coverage to promote the development of local industries, including their supply chain, she said.
She said rebates would be given to those who subcontract MSMEs or procure from bidders who can prove substantial linkage with MSMEs in their supply chain.
Moreover, this measure requires government offices to source their footwear, leather goods, and tannery product requirements from local manufacturers.
"Thus, we need a dedicated fund to implement the proposed programs. This bill creates the Covered Industries Development and Competitiveness Enhancement Fund (CIDCEF), which shall be comprised of the duties and taxes collected from importations of the covered industries that would eventually be used to fund the developmental support and activities under the bill," Quimbo said.
She said the bill, once enacted, shall direct the Department of Trade and Industry and other concerned agencies to formulate the Industry Roadmap for Covered Industries to restructure the government's delivery of support services to them.
A unit within the Board of Investments shall also be created to oversee the implementation of the measure.
"With these provisions, we hope to provide adequate support to the footwear, leather goods, and tannery industries. Marami pong nangangamba ngayon dahil sa taas ng dollar-peso exchange rate. (Many are anxious over the high dollar-peso exchange rate.) I think we should take advantage of this opportunity to strengthen the covered industries so that they can manufacture quality goods, source inputs locally, and sell them at more competitive prices in the global market, given the present situation. I count on the support of the members of this Committee to revive these industries, which will, in turn, provide more jobs to the Filipinos and boost economic recovery," Quimbo said. (PNA)