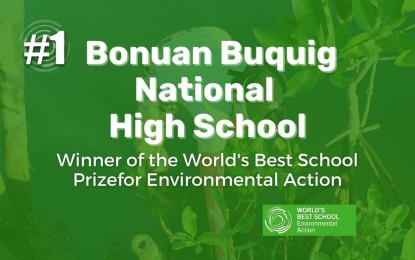 DAGUPAN CITY – The Bonuan Boquig National High School (BBNHS) here has bested other schools from 160 countries for its mangrove planting project that aims to mitigate the impact of climate change in the community and also uplifts environmental concern and volunteerism among its students and teachers.
In an interview on Thursday, BBNHS principal Renato Santillan said the cash prize worth $50,000 (around PHP2.95 million) will be allotted to establish a mangrove nursery and for the expansion of the project in other schools of the city that have rivers.
"The nursery aims to observe and strengthen research on mangroves," he said.
The school competed in the finals against schools from Indonesia and Switzerland under the Winner of the Best School Prize for Environmental Action category.
Santillan said the mangrove planting project of the school was started in 2009, documented in 2010, and continued until the present due to its high impact on the community.
"There was a typhoon that devastated Dagupan City. The city was flooded as the rivers, including the Longos River, overflowed. One teacher saw the need to plant mangroves in the area and so the students were encouraged to plant mangroves," he said.
The school even formed the Ilog Ko Aroen Ko Society –an organization encouraging the students to volunteer for environmental action for the community in their area, he added.
The project was relayed to the school head and has been adopted as a school-wide project since then.
Santillan said the students and teachers of BBNHS plant 2,000 to 3,000 mangrove seedlings annually although only 20 to 40 percent survive.
"From the report, some 50,000 seedlings have been planted since 2010. However, upon the initial report of the Department of Environment and Natural Resources, some 20,000 fully grown mangroves are already in the area," he said.
The mangrove plantation of the school covered 1,000 to 2,000 meters from Barangay Bonuan Boquig to the far end of Longos River going to Mangaldan town.
Santillan said the project has been sustainable as it emanated from the "heart of volunteerism" among the students and teachers as it also benefits the community.
"The project became a help to the community as we have interviewed some residents and they have testified that there are now fishes in the Longos River as the mangrove roots became a sanctuary of marine life in the area," he said.
The mangroves also prevent soil erosion which is beneficial to the fishpond caretakers, he added.
"The fishpond caretakers were grateful as they no longer have to build a pilapil (a dike made of mud from the river) four times a year," Santillan said. (PNA)