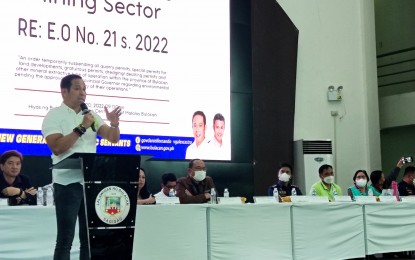 MALOLOS CITY, Bulacan – Governor Daniel Fernando on Thursday announced the temporary lifting of the suspension of mining and quarry operations in the province.
Fernando announced this during his meeting with about 350 operators of trucking/ hauling companies, processing plants such as crushing/ pulverizing/ cement/ blasting companies, and bentonite/ boulders operators throughout the province, at the Hiyas ng Bulacan Convention Center here.
The governor announced the temporary lifting of Executive Order (EO) 21 series of 2022 as he released the new Implementing Rules and Regulations (IRR) based on the environmental code that the concerned sectors must comply with.
"I temporarily lift the suspension of EO 21 for you to resume your operations starting October 26 this year," he said.
Fernando issued EO 21, which states the temporary suspension of all permits for mining, quarrying, dredging, desilting, and other types of mineral extractive operations within the province, on August 24 to address the issue of dilapidated roads and over-mining in the province.
He earlier said the implementation of EO 21 would also give way to the pending evaluation of the provincial government to determine and come up with an updated matrix and policies for mining stakeholders and trucking companies.
During the meeting that was led by the Bulacan Environmental and Natural Resources Office (BENRO), Fernando discussed the content of the executive order and IRR in response to the destruction of roads caused by the overloading of transport trucks, as well as the excessive volume of minerals and other commodities loaded in modified truck loaders.
Lawyer Juvic Degala, chief of BENRO, said the IRR includes the prohibition of modified trucks and the excess volume of loaded minerals.
Strict compliance in permit applications to operate regarding proper tax payment is also indicated in the guidelines.
Also prohibited is the "Kabit System" or the umbrella operation of operators where they must pay a permit to the provincial government individually.
Degala added that the IRR has a "one-strike policy" for those who already have a permit, either subjected to the cancellation or perpetual disqualification, and a "three-strike policy", which is the resumption or re-implementation of EO 21. (PNA)