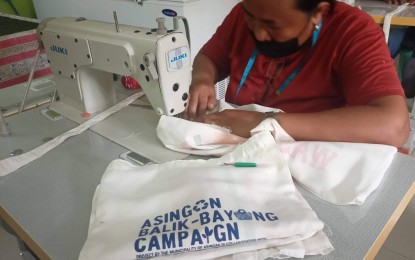 ASINGAN, Pangasinan – Persons with disabilities (PWDs) in this town have been earning through candle and eco bag making.
In a phone interview on Monday, PWD affairs officer Rose Ann Alfonso said PWDs from the 21 barangays have been making candles since 2005.
"The Department of Labor and Employment has given the association some PHP30,000 as initial capital and has trained the PWDs to make candles. Since then, it has become a source of income for us," she said.
Alfonso said the demand for their candles is high during All Saints' Day and All Souls' Day but they continue to make candles year-round as they level up their craft by adding scented candles and those with different designs to their products.
"The pandemic has been a challenge even up to now hence, we need to schedule the working days of the PWDs since the fare in transportation has increased so they don't have to go to the office daily," she said.
The PWDs work at the Asingan Sheltered Workshop Consumers Cooperative with the assistance of the Municipal Social Welfare and Development Office.
"The PWDs somehow earn enough for their daily needs," Alfonso added.
She said pioneer PWD candle makers are committed to training the new members of the association.
Aside from candle making, PWDs who are skilled in sewing are also earning their income from making eco bags.
Alfonso said they wanted to show the people that despite their disabilities, they still have other skills that are beneficial to the community.
Mayor Carlos Lopez Jr. said since the local government is strictly implementing the ban on single-use plastic in the markets and establishments, the PWDs were commissioned to make eco bags which are sold in the market for residents.
Lopez said with the ban on single-use plastic and patronage of the usage of eco bags, their garbage collection has decreased by almost 50 percent. (PNA)