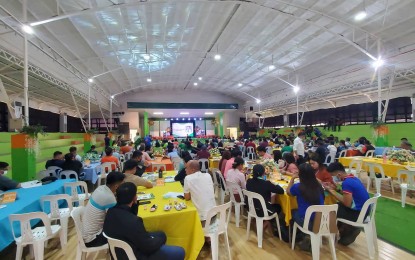 MONTEVISTA, Davao de Oro – In a bid to attract investments in the province, particularly in the coconut industry, the Department of Trade and Industry in Davao Region (DTI-11) organized Tuesday the Davao de Oro investment Conference (DDOiCON) here.
The two-day forum promotes various key investment areas not only in the coconut industry but also in the poultry raising and logistics sectors.
Lawyer Lucky Siegfred Balleque, DTI-Davao de Oro provincial director, said this year's conference highlights different market prospects of coconut-based products and graced by a Chinese commercial counselor based in Beijing.
"A market matching will also be facilitated between local coconut processors or farmers and the Chinese buyers. The purpose of this is to boost and inspire our coconut farmers to produce quality coconut products in enough volume, thereby, improving their lives," Balleque said.
Balleque said the DDOiCON aims to generate PHP500 million worth of investment leads, assist 60 investors, and achieve PHP200 million in domestic sales.
William Moralta, division chief of the Philippine Coconut Authority (PCA), said the forum will help coconut farmers especially explore value-adding to their products.
"Actually we have already started other products like copra, virgin coconut oil, coco sugar, coco water, and coco husk. This will really help them find their market," he said.
Davao de Oro has a total of 67,174 hectares of areas planted with around 35,712 coconut farmers.
Based on the data from DTI-Davao de Oro, the province has 249,844 metric tons of harvested coconut this year.
Demy Calsadora, chairperson of the Small Coco Farmers Organization in Compostela town said, the forum has so far taught them the importance of value-adding of their products.
"Before our concentration is only on copra and the coco juice, but this time we learned that there are much more products useful from coconuts," he said.
Calsadora said the event also affords them a venue to air their concerns, such as the rising cost of farm inputs.
Meanwhile, DTI-11 Director Maria Belenda Ambi said the annual investment conference in the province generated some PHP1.2 billion worth of investments from 2016 to 2019.
However, in 2020-2021 during the onslaught of the pandemic, she noted a decrease in investors due to various restrictions and lockdowns imposed by the government.
"Our ultimate objective is to create job opportunities here and improve the economy of Davao de Oro," Ambi said. (PNA)