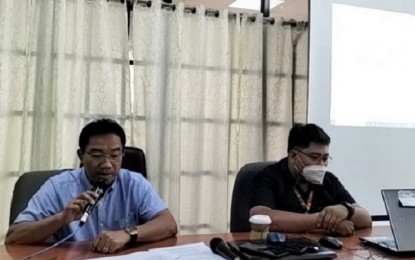 SAN JOSE DE BUENAVISTA, ANTIQUE – The Antique Provincial Veterinary (ProVet) Quarantine personnel are authorized to open and inspect suspected luggage of passengers of all incoming vehicles as part of their African swine fever (ASF) control measures.
Commuters are urged to yield their pork and pork by-products at the ASF border control checkpoints to avoid being penalized, said ProVet Public Health Division chief Dr. Marco Rafael Ardamil, in a press conference on Tuesday afternoon.
Confiscations from commuters and courier vans being ordered to return to their point of origin in Iloilo province were strengthened at the border control checkpoints in Barangay Fabrica in Hamtic and in Barangay San Francisco in Anini-y.
"We have confiscated pork lechon, pork adobo, pork chicharon and spam from commuters at the border control checkpoints in San Francisco, Anini-y," Ardamil said.
They have yet to determine the total confiscation and the corresponding value.
"So far, the ProVet personnel have not reported also any resistance or threatening words from the commuters or couriers during their confiscations," he said.
Before the goods were seized, it was explained to commuters or couriers that it was being done to prevent the entry of the ASF to the province considering that there are already cases in Iloilo.
The ProVet staff also distributes flyers as part of its information dissemination campaign.
Executive Order 229 issued by Governor Rhodora Cadiao on Oct. 18 strengthens the implementation of border control points following confirmed cases of the ASF in Oton, Iloilo.
Antique Vice Governor Edgar Denosta, who is the chairman of the Antique Provincial Board Committee on Agriculture, said violators, including those who will resist the confiscations, would be penalized by a fine of not less than PHP1,000 but not exceeding PHP5,000 or imprisonment of not less than six months but not exceeding one year or both at the discretion of the court.
The EO states that the ProVet Quarantine personnel are authorized to open and inspect suspected luggage and passengers will not be permitted entry if they refuse to submit to the inspection. (PNA)