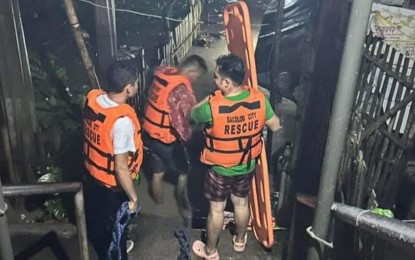 BACOLOD CITY – Classes have been suspended in this city and other local government units (LGUs) in Negros Occidental on Thursday as the trough of now Tropical Storm Paeng brought heavy rains and floods in the province since Wednesday.
"Because of the rains and floods in our city, I'm suspending classes in all levels today (Thursday). Keep safe everyone," Mayor Alfredo Abelardo Benitez here said in a video announcement.
In Bacolod, rescue operations and evacuation support were launched for residents of flooded areas on Wednesday night.
Other LGUs that have suspended classes include the neighboring cities of Bago, Talisay, Silay, and the municipality of Murcia.
In the north, classes were canceled in the cities of Victorias and San Carlos as well as in the towns of E.B. Magalona, Toboso, Calatrava, and Don Salvador Benedicto while down south and central Negros, suspension of classes was also declared in the municipalities of Valladolid, Pontevedra, La Castellana, Moises Padilla, Hinoba-an, and the cities of La Carlota and Sipalay.
San Carlos City Mayor Renato Gustilo said he ordered the suspension of classes "brought by the presence of evacuees in schools nearby the flood-stricken areas".
As of Wednesday morning, a total of 719 individuals, from 144 families, in four localities in Negros Occidental have been affected by floods, data from the Provincial Social Welfare and Development Office showed.
In San Carlos City, homes of 102 families have been hit by floods, but only three families are staying in the evacuation center.
Some 20 families each in Calatrava and Sipalay, and two families in Moises Padilla have also been affected by flooding.
Zeaphard Caelian, head of the Provincial Disaster Management Program Division, said the disaster risk reduction and management offices would continue to monitor the weather situation as Paeng has already intensified into a tropical storm.
In an advisory, the Provincial Disaster Risk Reduction and Management (DRRM) Council noted that although the province was not directly affected by the tropical disturbance, Negrenses should remain alert for isolated rainshowers and thunderstorms, and those living at the river banks, should transfer to a more safe area, especially at night.
The weather bureau declared Paeng a tropical storm at 8 a.m. Thursday.
The DRRM councils have also been advised to heighten preparedness by initiating proactive measures and taking appropriate precautionary actions for possible flooding, flash floods, or landslides, and by monitoring and ensuring that waterways are clear of obstruction and debris. (PNA)