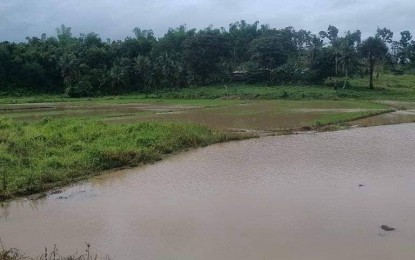 ILOILO CITY — The Department of Agriculture in Western Visayas is reminding farmers affected by Severe Tropical Storm Paeng to report to their respective local agriculture's offices their losses, especially those insured with the Philippine Crop Insurance Corporation (PCIC) to fast-track their indemnity claims.
In its progress report as of 9 a.m. Monday, the department's Disaster Risk Reduction and Management Office recorded over PHP262.58 million in production losses from the 10,186 metric tons of palay in various stages of development and 14.52 metric tons of high-value crops that were damaged by the weather disturbance.
"DA-WV personnel are in close coordination with the LGUs (local government units) in validating reports in order to determine extent of damage and include in the rehabilitation plan. If they are not insured with the PCIC, then they could not claim indemnity but they can be considered in other assistance like seeds if they are listed with the RSBSA (Registry System for Basic Sectors in Agriculture)," James Earl Ogatis, chief of the DA Regional Agri-Fishery Information Section, said in an interview.
Ogatis said they are still assessing affected farmers in irrigated areas because there is a "big chance" that they could replant while they still have to validate those in rain fed areas.
The severe tropical storm has affected 10,023 farmers -- 9,952 of them are in palay and 71 are on high-value crops.
Of the 14,269 hectares or affected palay, 2,638.33 hectares are totally damaged and the rest still have a chance of recovery since they are only partially destroyed.
The highest area with total damage was on the seedling stage covering 988 hectares and newly planted with 775 hectares.
Those in the vegetative stage covered 181 hectares, the reproductive stage was 322 hectares while those in the maturity stage were at 372 hectares.
Meanwhile, some 4,367 hectares of palay in vegetative stage have a chance of recovery, 2,189 hectares for those in their maturity stage, 1,825 for seedling, 1,333 for newly planted, and 1,902 for the reproductive stage.
The highest value of losses at PHP103.35 million from 6, 520.20 hectares of affected palay plantation came from Iloilo province, which has already gathered reports from the local government units of Passi City, Lemery, Barotac Viejo, Zarraga, Calinog, San Rafael, Lambunao, Cabatuan, Balasan, Batad, Anilao and Dingle.
Capiz reports PHP66.79 million in total losses of the 3,060 hectares affected from reporting towns to include Jamindan, Pilar, Dao, President Roxas and Mambusao.
Antique, as per report coming from towns of Tibiao, Anini-y, Barbaza, Valderrama, Tobias Fornier, San Remegio, San Jose and Patnongon covering 3,127.96 hectares, suffered PHP63.199 million in total losses.
The losses from Negros Occidental for palay planted in the over 1,161 hectares reached PHP.27.19 while high value crops was at over PHP418,000 as per reports submitted by Valladolid, Sipalay City, Calatrava, San Enrique, Moises Padilla, Pulupandan, San Carlos City, Hinoba-an, Sagay City, Cauayan, Himamaylan City, Talisay City, Cadiz City and Toboso.
Further, the losses incurred by 10 reporting towns from Aklan namely Altavas, Banga, Ibajay, Kalibo, Lezo, Madalag, Tangalan, Malay, Nabas and Numancia reached PHP1.66 million covering 376.15 hectares. (PNA)