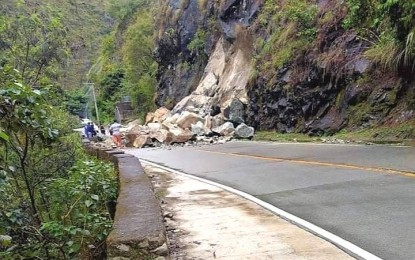 BAGUIO CITY – The Department of Public Works and Highways in the Cordillera Administrative Region announced that there are still several national roads in the region that are closed to vehicular traffic on Tuesday.
"Total clearing operations may still be ongoing or will resume/commence when the conditions are favorable or when equipment is available," the department said in a Facebook post.
Among them is Kennon Road, which is only open to residents and has a load limit of five tons and a speed limit of 30 km. per hour.
"Residents are still advised to avoid unnecessary travel during its closure with the road being on an open-close situation," the advisory said.
Other national road sections in the region that are still closed to motorists are:
-- Claveria-Calanasa-Kabugao Road (Apayao)
-- Salagunting Section, Eva, Calanasan town
-- Rabaw Section, Naguillian, Calanasan town
-- Cong. Andres Acop Cosalan Road (Benguet)
-- Sitio Bileng, Barangay Duacan, Kabayan town
-- Sitio Bongis, Barangay Gusaran, Kabayan town
-- Banaue-Hungduan-Benguet Boundary Road (Ifugao)
-- Abatan, Hungduan, Ifugao road section
-- Boundary Calanan-Pinukpuk-Abbut Road (Kalinga)
-- Bagumbayan, Tabuk City road section
-- Tabuk Banaue via Tanudan-Barlig Road (Kalinga)
-- Mabaca, Tanudan road section
-- Caraw Section, Barangay Babbanoy, Tanudan road section
-- Lubuagan-Batong Buhay-Abra Road
-- Puapo, Dangtalan, Pasil, Kalinga
-- Balbalan-Punukpuk Road
-- Kalinga-Abra Road
-- Bulalayao, Balbalan, Kalinga
-- Pantikian, Balbalan, Kalinga
Meanwhile, other road closures earlier reported are now passable.
"Previously reported road closures within the Region have been punched-thru open or are now one-way/two-way passable. However, the close-open situation within our national roads may still be experienced. We advise the public to take extra caution in traversing these roads since safety is our priority concern," the DPWH further said.
Meanwhile, the Department of Social Welfare and Development (DSWD) in the region reported that as of 12:01 a.m. Tuesday, there are 41 municipalities, 131 barangays, and 2,910 families with 11,468 individuals affected by Paeng in the Cordillera.
There are 106 displaced families who are in evacuation centers while 123 have moved to houses of relatives.
The DSWD also reported that there are 20,258 family food packs and 27,634 non-food items prepositioned in DSWD warehouses in Abra, Benguet, Ifugao, Kalinga, Mountain Province and Apayao. (PNA)