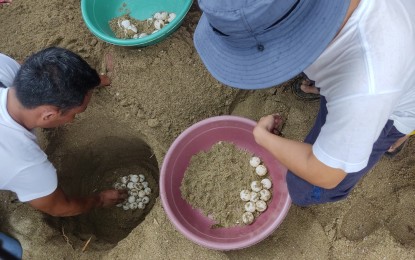 LEGAZPI CITY – Some 46 Olive Ridley Turtle (Lepidochelys olivacea) eggs are being monitored at the shorelines of Donsol town in Sorsogon after their turnover to the Department of Environment and Natural Resources Office in Bicol (DENR-5).
In a social media post on Wednesday, DENR-5 said a concerned citizen recently reported the sighting of a turtle laying eggs to World Wide Fund (WWF) coordinators.
"Sorsogon ENRO (Environment and Natural Resources Office) team retrieved 52 eggs but six eggs were found cracked and damaged due to the nesting site being reached by big waves. The remaining 46 eggs were transferred to a safer area where net borders were installed as a protective barrier from predators," the post said.
The provincial ENRO, Donsol municipality, and the WWF will continue to monitor until the eggs are hatched and the turtles will be released to their natural habitat, it added.
The team also conducted an information, education, and communication (IEC) campaign on the importance of marine turtles and their habitat and nesting site in the coastal village.
Meanwhile, DENR-Bicol Regional Executive Director Francisco Milla Jr. urged the public to report and turn over to the agency any wildlife species for proper handling and care.
Under DENR Administrative Order (DAO) No. 2019-09 entitled "Updated National List of Threatened Philippine Fauna and their Categories", marine turtle species are considered endangered.
All wildlife in the Philippines is also protected under Republic Act 9147, or the "Wildlife Resources Conservation and Protection Act".
Continuous IEC activities are being conducted by the DENR, which have caused increasing numbers of reports and public turnovers to the office of various wildlife species. (PNA)