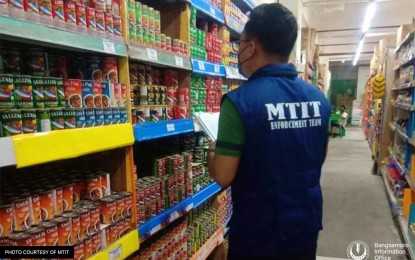 MANILA – The Department of Trade and Industry (DTI) said supply of basic commodities in areas hit by Severe Tropical Storm Paeng remains stable.
In a statement Wednesday, DTI Secretary Alfredo Pascual said the agency is closely coordinating with manufacturers and retailers of basic necessities to ensure timely replenishment of inventories, especially in calamity-stricken areas.
"The prices and supply of basic necessities and prime commodities are generally stable based on the latest nationwide situational report," he said.
Pascual said the agency intensifies its market monitoring to ensure adequate supply of goods in areas affected by the tropical cyclone and to check if retailers adhere to the price freeze in areas placed under state of calamity.
"We remind businesses and traders to comply with the price freeze on basic necessities in areas under state of calamity," he added.
Under the Republic Act 7581, or the Price Act, prevailing prices of basic goods should be maintained for 60 days once the area is declared under a state of calamity.
Basic necessities include canned fish, locally manufactured instant noodles, bottled water, bread, processed milk, coffee, candles, laundry soap, detergent and salt.
Likewise, the Department of Energy (DOE) reminded that a price freeze for household liquefied petroleum gas (LPG) and kerosene is being implemented in local government units (LGUs) under state of calamity.
At the start of the month, oil firms implemented a price rollback on LPG by PHP3.50 to PHP3.55 per kilogram.
This should reflect a decrease of PHP38.50 to PHP39.05 for a regular 11-kilogram LPG cylinder.
"During the price freeze, rollback of prices will be implemented, while price increases are strictly prohibited within the 15-day period from date of LGU's declaration of state of calamity," DOE said.
LGUs that declared state of calamity due to Paeng include the provinces of Aklan, Albay, and Cavite; Cotabato City, Zamboanga City, the City of San Pablo in Laguna, and the City Sto.Tomas in Batangas; municipalities of Pigcawayan in Cotabato, Upi in Maguindanao, Tibiao in Antique, and Amulung in Cagayan; and the entire Bangsamoro Autonomous Region in Muslim Mindanao. (PNA)