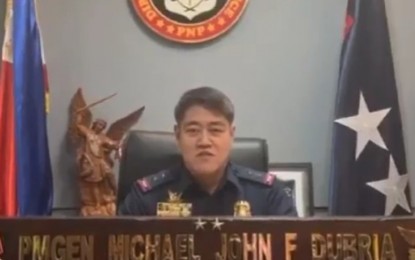 MANILA – Philippine National Police (PNP) chief Gen. Rodolfo Azurin Jr. has named Maj. Gen. Michael John Dubria to the police force's command group as the new chief of the Directorial Staff.
Dubria, a member of the Philippine Military Academy "Sambisig" Class of 1991, is now the PNP's fourth-highest official. He replaces Maj. Gen. Arthur Bisnar who was transferred to the Office of the PNP chief.
Meanwhile, Lt. Gen. Patrick Villacorte, outgoing chief of the Area Police Command (APC) in Eastern Mindanao, succeeded Dubria as head of the APC Visayas.
The latest revamp of officials in the police force took effect on Friday.
Dubria's latest designation is just less than a month after he was designated as chief of the APC Visayas in October, replacing Lt. Gen. Rhodel Sermonia, who in the same month was designated as deputy chief for administration, the police force's second-highest post.
Donation
Meanwhile, the PNP received food supplements from a pharmaceutical company, aimed at helping police officers maintain a healthy body and boost their immune system while performing their duty to serve and protect the people.
Azurin, together with Director for Logistics Maj. Gen. Ronaldo Olay and Health Service acting director Col. Jezebel Medina, received 39 boxes of Provital Immuna Plus and 21 boxes of Royale Immuno Boost Premium from Mercury Drug Corp. executives Inigo Lim and Malone Juan at the Office of the Chief PNP, Camp Crame in Quezon City on Thursday.
"Let me extend the sincerest gratitude of the PNP leadership to the Mercury Drug Corporation for always providing our police officers with medical and nutritional products to boost their immunity while performing their duties, most especially during rainy season and from exposure to different infectious diseases such as Covid-19 (coronavirus disease 2019)," Azurin said in a statement on Friday. (PNA)