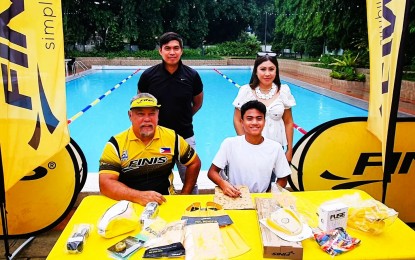 MANILA - More than 200 swimmers from 25 teams and clubs are joining the Visayas leg of the FINIS Philippines National Long Course Series on Nov. 5 and 6 at the Iloilo Sports Complex swimming pool in La Paz, Iloilo City.
"We're happy and proud, despite the enormous effect of Typhoon Paeng in the region, a huge number of teams have confirmed their participation. Their resiliency is very commendable and we, in FINIS, is doing our best to provide them an international-level competition environment," said FINIS Managing Director and tournament organizer Vince Garcia on Friday.
"This is an off-shoot to the previous short course series we have organized, so we expect the best of the Visayas to show up to form a competitive squad in the National Finals," he said.
Bacolod-based John B. Lacson Swim Team; Megakraken, Aklan; Iloilo Tigershark; Capiz Turboshark; Binarayan Tadpole Swimming Club; Bohol Splashers; Buddy Swim Team; Capiz Eaglerays; Iloilo Starfish; JBLFMU Dolphin, Salabite Swim Sting, Silay Orca, Sta. Fe Crocs and University of San Carlos are among the participating teams that are hoping to clinch slots for the National Finals in December.
Meanwhile, national member and one of FINIS' ambassadors, Kyla Soquillon of Malay, Aklan is expected to rule her favorite events in the two-day competition.
After the Visayas leg, the tournament will go to Zamboanga for the Mindanao leg slated Nov. 12 and 13 at the Joaquin F. Enriquez Memorial Sports Complex swimming pool.
The Luzon leg will be held from Nov. 26-27 at the New Clark City Aquatic Center in Capas, Tarlac, which will be the same venue for the National Finals slated Dec. 17 and 18.
Garcia said special prizes await the Top 3 teams and Most Outstanding Swimmers in the National Finals.
"The National Finals will be more exciting because those who won their respective events in the three legs will compete so we will know where the best swimmers will be coming from," he said.
Garcia is also hoping to discover more promising young swimmers from the series who will be included in FINIS' "Champions of Ambassadors."
Aside from Soquillon and World Juniors semifinalist Jasmine 'Water Beast' Mojdeh, FINIS has recently signed up national junior champion Jamesray Ajido as its new brand ambassador.
Ajido, 13, set the national junior record in the 50-m (26.95) and 100-m (58.82) butterfly; 200-m (2:15.87) and 400-m (4:58.71) Individual Medley; and 100-m (1:03.28) and 200-m (2:17.09) backstroke, during the Philippine Swimming Inc. (PSI) Grand Prix and ASEAN age-group selection series this year.
"Ajido has a strong character, courage and perseverance which exemplify FINIS, a brand which produces high-quality products," said Garcia.
He added that aside from swimming, FINIS is also helping and supporting kids' triathlon with a similar championship series, duathlon, open water swimming and coaches' education program.
Meanwhile, Garcia thanked and congratulated those who attended the FINIS-American Swimming Coaches Association (ASCA) Swim Coaching Certification Clinics from Oct. 27 to 31 at the Acropolis Green Sports Complex Clubhouse in Quezon City.
"A big kudos to our ASCA Certifier Coach Chad Onken in conducting the clinics and sharing a wealth of his experiences as an elite swim coach. I would like to express my gratitude to everyone who joined the ASCA Swim Coaching Certification. Maybe we can have the this again next year. For those who have inquired, just wait for the announcement," said Garcia.
"This is our way to help professionalize coaching in the country. Of course, schools and swimming clubs want their coaches to have an extensive knowledge aside from experience," he said. (PNA)