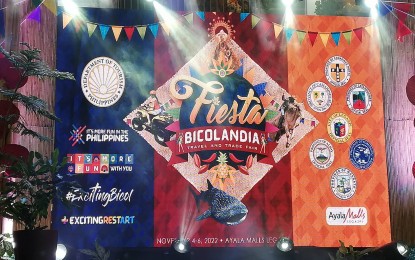 LEGAZPI CITY – The Department of Tourism in Bicol (DOT-5) launched a fair on Friday, showcasing the different cultures, arts, and delicacies of the six provinces of the region to promote and revive the area's tourism industry.
Dubbed "Fiesta Bicolandia 2022", the event also features the various tourist attractions across the region and will run until Nov. 6 at the Ayala Mall here.
The guest speaker, DOT Undersecretary Ferdinand "Cocoy" Jumapao, in his message said the celebration is a reminder of the nation's strength as it rises from the challenges that it faced during the pandemic.
"Today, we commemorate getting back on track -- a glorious restart and reopening of our doors to the world. Today's extravaganza showcases the wonders of Bicol through an assortment of colorful and evocative activities. Bicol, a beautiful destination with rich culture and history, abundant in natural attractions, infrastructures, and sights, is now rejuvenated with more to offer," Jumapao said.
He said DOT believes that tourism is now strong as the people and stakeholders are supporting its comeback.
"President Ferdinand Marcos Jr. expresses full support and confidence in the tourism industry to be the pedestal for the economy's post-pandemic recovery. His optimism for the vibrant future awaiting us echoes across our tourism stakeholders," he said.
Herbie Aguas, DOT-5 regional director, in an interview, said the main purpose of the event is to say to the world that Bicol is now ready to welcome and serve tourists.
"Bicol is now open, we're trying to say to the world not just in the Philippines that we are now ready. Our farm culture is alive, and art and culinary are ready to accept all of you (tourists). Everything now is open," Aguas said.
He noted the increasing number of tourists arriving in the region.
"Based on the data that we get from our provincial offices, particularly in the island provinces of Catanduanes and Masbate, the tourist arrivals are now increasing. It's a promising figure for the Bicol region," he added.
Aguas believes they will surpass the one-million tourist arrival target for 2022.
"Since we are bouncing back from the effect of Covid-19, we already have more than 800,000 tourist arrivals but we still have two months, and December is when we expect the influx of the tourist," he said.
Participating in the Fiesta Bicolandia 2022 are all the provinces of the region -- Catanduanes, Albay, Masbate, Camarines Norte, Camarines Sur, and Sorsogon -- which are known for their beautiful beaches and mountains, as well as famous delicacies, and farm tourism. (PNA)