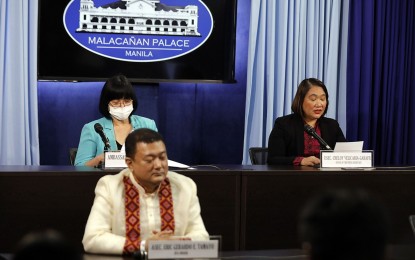 MANILA – President Ferdinand R. Marcos Jr. will shed light on the role of the country's maritime crews and seafarers in ensuring stable supply chains when he participates in the Asia-Pacific Economic Cooperation (APEC) Economic Leaders' Meeting (AELM) in Thailand next week, Malacañang announced Monday.
In a Palace press briefing, Undersecretary Cheloy Garafil, officer-in-charge of the Office of the Press Secretary (OPS), confirmed that Marcos will be joining other heads of state at the 8th APEC Economic Leaders' Meeting in Bangkok from Nov. 16 to 19.
This will be the first APEC meeting for the President and his administration. It will also be the first in-person meeting of the 21-member regional economic bloc since the coronavirus pandemic hit at the start of the year 2020.
Aside from maritime crews and seafarers, Garafil said other topics that will be raised by Marcos are the importance of empowering micro, small, and medium-sized enterprises (MSMEs) and their inclusion in global value chains, the need to ensure food and energy security, and climate change mitigation and adaptation measures.
Garafil said Marcos will also participate in the APEC CEO Summit which is a meeting of top business leaders in the region.
"He will meet with top executives of Thai companies to discuss business opportunities, investments, and expansion plans," she said.
She said Marcos will also have the opportunity to meet with leaders of economies to discuss the country's bilateral relations and seek paths toward mutual economic benefits.
DFA Multilateral Affairs and International Economic Relations (UMAIER) Assistant Secretary Eric Gerardo Tamayo said Marcos will be having bilateral meetings with six counterparts, but arrangements are still being finalized.
Garafil said the President will also meet with the Filipino community in Thailand.
The APEC was established in 1989 with the primary goal of supporting sustainable economic growth and prosperity in the Asia-Pacific Region.
The 21 member economies of APEC are the Philippines, Australia, Brunei, Canada, Chile, China, Hong Kong, Indonesia, Japan, South Korea, Malaysia, Mexico, New Zealand, Papua New Guinea, Peru, Russia, Singapore, Chinese Taipei, Thailand, the United States, and Vietnam.
The Philippines has hosted APEC meetings twice, in 1996 and 2015.
Positive outcomes
Meanwhile, Tamayo expressed confidence that the President's participation at the APEC would result in "positive outcomes."
Tamayo, who is also the Director-General of the Philippine APEC National Secretariat, said Marcos will push for APEC to revitalize its role as a driver of global economic growth.
Before the pandemic, he said the Asia-Pacific Region had been the significant driver of global economic growth. However, this was disrupted by the global health crisis.
"...The challenge before us is to facilitate the rapid recovery of economies arising out of the pandemic and also to undertake the necessary measures to also counter the disruptive forces that affect the current economic situation around the globe," he said.
"It is important for us to be able to highlight the fact that economies need to future-proof the region in responding to these disruptions coming from the pandemic and other disruptions around the globe," he added. (PNA)