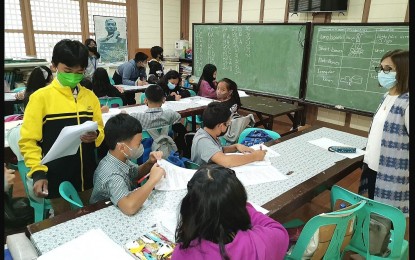 BAGUIO CITY – The Department of Education in the Cordillera Administrative Region (DepEd-CAR) said they see learners taking personal responsibility for their safety as they continue to wear masks while in the classroom, especially in crowded rooms.
"Our learners still wear their facemasks inside the classroom even if they are not required to use them which is a good sign that they are looking after their safety," said Dr. Estela Cariño, DepEd Cordillera director, in a phone interview on Monday.
The official noted that during her visits to the schools since the start of classes last Nov. 2, learners at all levels continue to wear their face masks inside the classroom.
"It is not mandatory but we encourage it, especially in classrooms that are crowded and also considering the indoor setting," the director said.
She also mentioned that two years into the pandemic, everyone has learned the value of wearing face masks for their protection, which learners have learned to imbibe.
This came amid the DepEd's order for public schools to make the wearing of face masks in schools optional, in compliance with Executive Order (EO) 7 signed by President Ferdinand R. Marcos Jr. on Oct. 28.
The EO states that the use of face masks indoors shall be voluntary except in healthcare facilities, medical transport vehicles and public transportation.
Mask wearing is still encouraged for senior citizens, individuals with comorbidities, immunocompromised individuals, pregnant women, unvaccinated individuals and symptomatic individuals.
The EO also urged the general public to exercise diligence in carrying out health protocols, such as the practice of good hygiene, frequent hand-washing, observance of physical distancing, and maintenance of good ventilation, especially in indoor settings. (PNA)