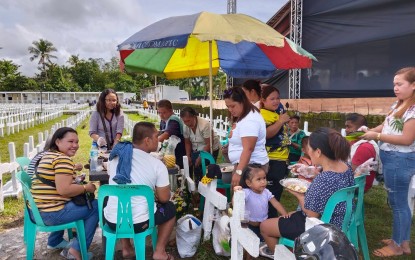 TACLOBAN CITY – Nine years after Super Typhoon Yolanda struck this city, survivors whose family members perished during the 2013 disaster moved on from the horrible experience.
Paquito Sabido, 55, vividly recalls how he cheated death when big waves swept away their house in the city's reclamation area, a highly populated community near the city's public market.
After the storm surge, he found himself on top of debris with several bruises.
He walked to a nearby hospital alone where he met his four other injured children also seeking medical treatment. His wife, Elena, was killed by big waves.
"It was a very unforgettable experience. I was seriously injured by debris and my wife died. In the past nine years, running our small banana trading business helped me cope from the tragedy," Sabido said in interview on Tuesday.
Her daughter, Imee, 30, said their family traditionally gathers every November 8 at the mass grave inside the Holy Cross Memorial Gardens in a spot where they believe their mother was buried by the retrieval team.
"We have been visiting this nameless grave. We don't exactly know where my mother was buried since we are still waiting for the result of DNA test. The National Bureau of Investigation has gathered samples from us last December 2013," Imee said.
The NBI earlier said the lack of funds for DNA cross-matching has hampered the process.
Mary Ann Lawahan, 39, is still grieving the loss of her one-year-old son during the onslaught of the super typhoon in 2013.
"It's been nine years, but still hard to accept that my youngest son is gone. I found relief from seeing my three other children growing up," said Lawahan, whose family runs a small community store in San Jose district.

Unlike other survivors, she is lucky as she knows where her son's final resting place is in a mass grave where over 2,200 victims were buried inside the Holy Cross cemetery in Basper village.
The mother found her son's body a kilometer away from their house in the San Jose district three weeks after the disaster.
Alexander's body was buried in a vacant lot owned by their relatives before its transfer to the mass grave in early 2014.
On Tuesday, hundreds of survivors came to the mass grave to light candles, offer flowers and eat together to mark the ninth year death anniversary.
The site is dotted with white wooden crosses and some tombstones.
In the past years, some people picked a cross and wrote the names of their family members on it.
The city government suspended work in government offices and classes on Tuesday to allow the observance of the super typhoon's onslaught.
The nearby coastal towns of Palo and Tanauan which were also hit hard by storm surges also held their respective commemoration activities on the same day.
During the onslaught of Super Typhoon Yolanda, 315 kilometers per hour winds whip up the sea and push the storm surge over low-lying coastal areas in the city, killing over 2,000 residents.
The official Yolanda death count was 6,300 with 5,902 recorded in the Eastern Visayas region. (PNA)