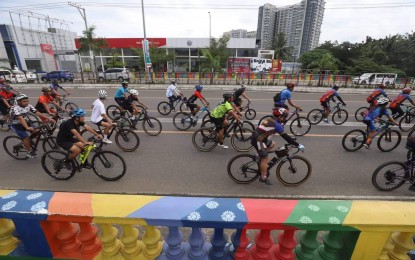 ILOILO CITY – Iloilo City's "I-BIKE: A Program Promoting the Development of the Iloilo City Bike Culture" has made it to the 18 finalists of the 2022 Galing Pook Awards, which recognizes excellent and innovative local government program.
A team of validators arrived in this city in October and conducted interviews with various stakeholders.
Iloilo City Planning and Development Officer Jose Roni Peñalosa, in a media interview on Tuesday, said the bike culture as a "kind of lifestyle" has caught their interest.
"Our appears to be different because it talks about the kind of lifestyle. We said that we wanted to present the bike culture as something that can be replicated elsewhere in the country as a good practice," Peñalosa said, adding that there were other entries that likewise talked about biking.
He added that the program encompasses all sectors and is not just about cyclists' wellness and physical fitness.
"It's all about the socio-economic benefits, health and about protection, public safety and security of the cyclists now wanting to be safe on the road. There were demands from this population to improve on the support infrastructure that should be undertaken by the government," Peñalosa said.
The growing population of cyclists led to the opening of businesses like bike shops selling gear and offering repairs. Even the informal economy has benefitted from the mushrooming of small eateries and coffee shops, among others.
The city government under Mayor Jerry P. Treñas listens and responds to the request of the sector such as the provision of markings and dedicated lanes, among others.
He added that Iloilo City has been famous for its bike lanes totaling 45 kilometers.
At Sen. Benigno S. Aquino Avenue alone, over 1,300 bikers pass the area every day.
The city government has won the Galing Pook Awards twice, in 2018 with the Iloilo-Batiano River Development Project and in 2012 for its Dinagyang Festival. (PNA)