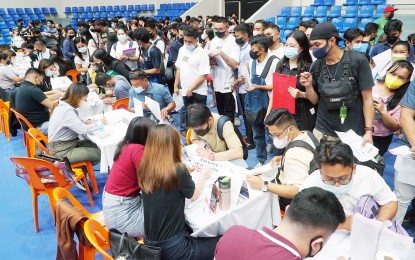 MANILA – President Ferdinand R. Marcos Jr. on Wednesday welcomed the 5 percent drop in the country's unemployment rate, describing it as a "good sign" of economic recovery.
The number of unemployed Filipinos eased to 2.5 million in September this year from 2.68 million in August, according to data from the Philippine Statistics Authority (PSA) released Tuesday.
This translates to an unemployment rate of 5 percent, lower than the 5.3 percent unemployment rate in August.
According to PSA, the average unemployment rate this year is already "close to the pre-pandemic level", which was at 5.1 percent in 2019.
"This is a good sign. The economy is trying very hard to grow," Marcos was quoted as saying in a press statement from Malacañang.
He reiterated his commitment to improving the quality of jobs to address underemployment while bolstering job opportunities in the country.
"Ever since we started with the economic team, even before I took office, we really concentrated on the creation of jobs. And that's why it is having the effect now of bringing down our unemployment rate," he added.
Marcos recognized that rising inflation remains a concern under his administration but expressed confidence that the country could sustain the positive momentum with a lower unemployment rate.
"We just have to be able to tolerate the shocks that are coming from abroad. But otherwise, the economy is moving in the right direction," he added.
He also said accelerating job generation remains among the "top priorities" of his administration.
With the decline in unemployment, the PSA said employment rate improved to 95 percent, the highest recorded rate since January 2020.
The significant de-escalation of community quarantine restrictions translated to an employment creation of 4 million year-on-year, bringing the total employment to 47.6 million in September this year.
Socioeconomic Planning Secretary Arsenio Balisacan earlier said the improved joblessness survey results show "the gains of the full reopening of our economy."
"The government will leverage this momentum by strengthening policy interventions and investing in innovation and technology systems geared toward generating higher quality employment that provides adequate income for Filipino workers and their families," he said. (PNA)