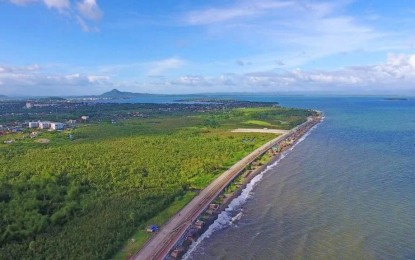 TACLOBAN CITY – The PHP16.95-billion Leyte tide embankment project designed to shield coastal communities from destructive waves is now 37.20 percent complete, the Department of Public Works and Highways (DPWH) reported on Wednesday.
At least 12.88 kilometers (km) of seawall have been completed through the budget released by the central government from 2016 to 2020. Also completed in the past six years is the 835-meter backwater dike.
The entire project covers the construction of 28.48 km of flood mitigation structure and 16 km of backwater dike structure or a total of 44.48 km, according to DPWH Eastern Visayas Regional Director Edgar Tabacon in a phone interview.
The right-of-way acquisitions and modification of designs are among the cause of the delay of the project that started six years ago.
The DPWH initially set the project completion by 2022 or within the term of former president Rodrigo Duterte.
"We are doing our best to fast track the project since this will secure the covered areas from possible occurrence of storm surge for the protection of lives and properties of the residents of Tacloban City and the municipalities of Palo and Tanauan, Leyte, especially those residing in the coastal areas," Tabacon said.
Of the 44.48 km of structures, 21.37 km have been funded until this year, including the 13.72 km completed, and 6.45 km ongoing.
Some 22.84 km is still up for funding in the next years, according to Tabacon.
In terms of budget, of the PHP16.95 billion requirement, PHP6.08 billion have been obligated as of the end of September 2022.
The project stretches from Diit village here to Cabuynan village in Tanauan town, which would protect 33,000 residents from big waves based on a 50-year projected population.
Sections 1 to 3 are in this city, Section 4 in the coastal villages here and in Palo, Section 5 in areas of Palo and in Tanauan, and Section 6 in Tanauan town.
In most sections, the four-meter-wide structure is designed as a bay walk and bicycle lane.
The project, around 30 meters from the shoreline, will protect 33.7 square meters area of properties and 33,185 houses and buildings.
Building the four-meter-high structure came about after the 2013 storm surges whipped by Super Typhoon Yolanda's (Haiyan) fierce winds wiped out neighborhoods in Leyte province. (PNA)