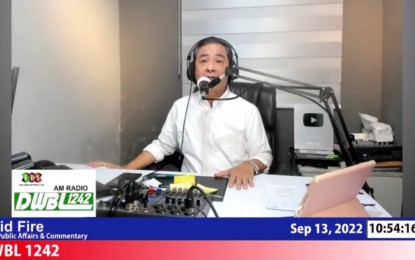 MANILA – President Ferdinand R. Marcos Jr. on Wednesday said he wants authorities to take a closer look into the killing of veteran broadcast commentator Percival "Ka Percy Lapid" Mabasa, adding that the probe will continue until he is satisfied.
He made this remark after the Philippine National Police (PNP) and the National Bureau of Investigation (NBI) on Monday filed murder complaints against suspended Bureau of Corrections (BuCor) chief Gerald Bantag and others in relation to Mabasa's killing.
"We're trying to make sure that we know exactly what this is all about. The more we look, the worst it gets, this…masyadong deadly eh (It's too deadly)," he said in an interview with reporters aboard a plane en route to Cambodia.
Marcos said he was "bothered" by the tagging of Bantag in the case, adding that Justice Secretary Jesus Crispin Remulla and Interior Secretary Benhur Abalos told him that Bantag "acted like a god" at the BuCor.
"He established his own fiefdom there in the prison. 'Yung galaw niya is (The acted) with no fear of being punished," he added.
Aside from Bantag, authorities also linked BuCor Deputy Security Officer Ricardo Zulueta to Lapid's death.
The President, however, assured that Bantag's suspension will remain until charges against him are brought to court.
Meanwhile, Marcos said he believes authorities "have gotten most of those involved" but will see how the investigation develops.
"We'll just keep going. Until we're satisfied. Right now, because we haven't spoken to all of the named suspects, middlemen, masterminds, the investigation hasn't been closed," he said.
Asked if he had specific instructions to the BuCor, Marcos said he is confident they have so far "done a good job."
"Again, they know their jobs. They don't need me to tell --- to teach their job… In terms of investigating, alam na nila 'yung gagawin nila (they know what to do). But we have to look bakit (why) and see what happened here? Bakit nagkaganito (Why did this happen)? What went on inside the prison that this happened?" he said.
"They'll keep doing a good job until we come to the actual final, conclusion of this investigation," he added.
Mabasa was shot dead at the gate of a subdivision on Aria Street, Barangay Talon Dos, in Las Piñas City on Oct. 3.
The PNP formed a special investigation task force to probe Mabasa's killing the following day. (PNA)