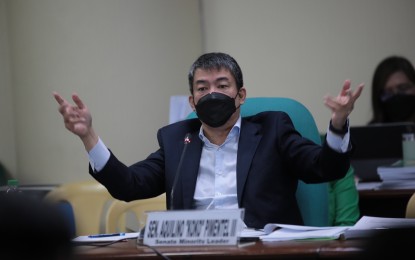 MANILA - Senate Minority Leader Aquilino Pimentel III commended Thursday the Marcos administration for putting up a Medium Term Fiscal Framework (MTFF) that aims to guide the budgeting process in the next six years.
Pimentel complimented the administration for being the first to introduce the framework that supports its agenda for prosperity.
"It rationalizes everything. So, I would like to congratulate this administration for being the first administration which has publicly come up with a Medium Term Fiscal Framework and even has this approved by both Houses of Congress," Pimentel said during his interpellation with Senator Sonny Angara who was defending the budget of the Office of the President (OP) on the floor.
Department of Budget and Management Secretary Amenah Pangandaman earlier described MTFF as the roadmap for the Marcos administration's "Agenda for Prosperity".
"It is through this framework that we have listed our country's economic objectives, such as achieving 6.5 to 7.5 percent real GDP (gross domestic product) growth in 2022; 9 percent or single digit poverty rate by 2028; 3 percent National Government deficit to GDP ratio by 2028, and less than 60 percent National Government debt-to-GDP ratio by 2025. It is with these objectives in mind that we have designed our National Expenditure Program," Pangandaman said.
Meanwhile, Pimentel proposed to cut the OP's Confidential and Intelligence Funds (CIFs) amounting to PHP4.5 billion which constitutes 65 percent of its proposed Maintenance and Other Operating Expenses.
"Siguro (Maybe) in due time, I will propose an amendment to reduce the CIF being given to the Office of the President," Pimentel said believing such a proposal would only be turned down.

The OP is proposing a total of PHP8.9 billion next year which was just approved by the Senate. (PNA)