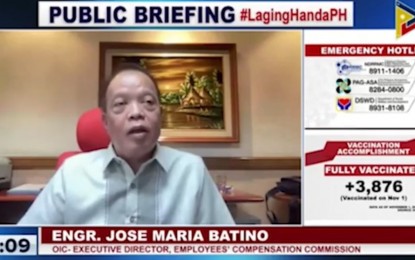 MANILA – Employees who got injured or sick, or who died while performing their duties during calamities are entitled to benefits from the Employees' Compensation Commission (ECC).
In a Laging Handa briefing on Thursday, ECC officer in charge-executive director Jose Maria Batino, said private sector workers qualified for this kind of assistance are compulsory members of the Social Security System (SSS), those who are self-employed, household workers, and sea-based overseas Filipino workers (OFWs).
Meanwhile, those qualified in the public sector are compulsory members of the Government Service Insurance System (GSIS) and uniformed personnel.
For instance, Batino said, they have extended assistance to the rescuers in Bulacan who died in the line of duty during the onslaught of Super Typhoon Karding.
"Two of those rescuers (were) Government Service Insurance System members. They processed benefits from GSIS and were given cash assistance by (the) ECC. It does not only apply to typhoons but earthquakes as well," Batino added.
The cash benefit ranges from PHP200 up to PHP480 per day depending on where the worker is employed.
"For example in the private sector, the daily sickness benefit is PHP480. In the government, it is PHP200 per day," he added.
For those in the private sector, the employer has to apply for the worker through their online SSS account, which can be classified as disability or sickness claims.
Government workers can file claims over the counter at GSIS branches.
Meanwhile, Batino said they continue to process sickness and funeral benefits for workers who contracted the coronavirus disease 2019 (Covid-19) but said the granting of cash assistance for the purpose has been stopped.
"As our former executive director Stella Banawis said in a previous interview, the number of claims for Covid benefits have reached 20,000. For now, we are processing claims filed from October to December 2021," he added. (PNA)