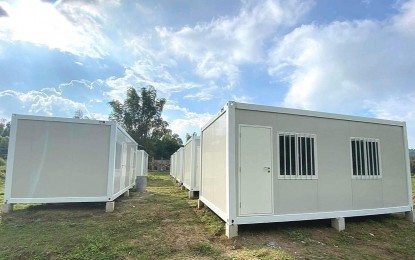 VILLAVICIOSA, Abra – The municipal government is ready to transfer at least 32 families here to a temporary relocation site after being displaced from their previous community which was declared a permanent danger zone by the Mines and Geosciences Bureau of the Department of Environment and Natural Resources (DENR).
"Anytime, we will move them to the place. Our people are just completing the installation of the water system and the electric connection," said Mayor Jose Lagen in a media interview on Thursday.
At least nine families or 35 individuals are currently staying at the town's evacuation center -- a covered court in Barangay Lap-lapog where family tents of the Department of Social Welfare and Development (DSWD) have been set up in the aftermath of the July 27 magnitude earthquake that rocked the province.
"They have been approved as beneficiaries of the shelter from the National Housing Authority (NHA) but pending the establishment of the permanent relocation, a temporary area is being set up to give a sense of normalcy," he added.
The temporary relocation area is a three-hectare property bought by the municipal government under the emergency purchase process due to the urgency of immediately transferring the families.
"We cannot just place them at the temporary site without the basic amenities because that would be adding to the difficult situation they are already in," he added.
Lagen said the MGB declared the area as "condemned" due to the continuous falling of rocks and landslides of the mountain, placing the community people in danger of being buried in case of heavy rainfall.
The Tukip Integrated School which caters to learners from kindergarten to Grade 6 has also been abandoned.
The affected families have tobacco and rice planting as sources of income.
The mayor said the area will have a livelihood component which is being coordinated with the other agencies in government to make the people pursue their normal lives despite relocation.
"We cannot allow them to return to their original homes, it is not safe for them," Lagen said.
Evelyn Vergara, municipal social work officer of Villaviciosa in a separate interview, said that the local government unit and the other government agencies are providing the basis for the families like food, water, and electricity while at the evacuation center staying in family tents. (PNA)