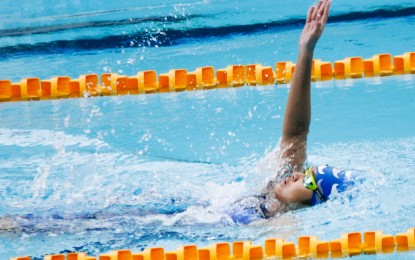 MANILA – Nicola Queen Diamante came up with another sterling performance on Saturday and bagged three gold medals in the SMP Grand Reunion Swim Challenge Championships at the Teofilo Ildefonso pool inside the historic Rizal Memorial Sports Complex.
Diamante, a member of the RSS Dolphins Swim Club, won the 50-m butterfly (33.48), 200-m freestyle (2:37.00) and 200-m backstroke (3:04.54) events in the Class A girls' 11 years old category of the
tournament organized by the Samahang Manlalangoy ng Pilipinas (SMP) and sanctioned by the Congress of Philippine Aquatics, Inc. (COPA).
"I am happy that I get good results in my tournaments," said the 11-year-old swimmer who will join the Batang Pinoy National Finals scheduled from Dec. 17 to 22 in Vigan, Ilocos Norte.
Diamante already collected 14 gold medals from the three-leg COPA Reunion Swim Challenge last month.
In the first leg, she topped the Class A 50-m butterfly (34.47), 50-m backstroke (35.72), Class B 200-m Individual Medley (3:14.79), Class C 100-m butterfly (1:41.47) and the 12 years and under 200-m Medley Relay (2:25.06) and 200-m Freestyle Relay with Jhamina Mundir, Annika Quinto and Angel Kirsten Escala (2:49.93), and got the silver medal in the Class A 100-m backstroke (1:26.04) and Class B 200-m freestyle (2:50.40) and the bronze in Class A 50-m freestyle (33.43).
Diamante continued her winning form in the second leg, garnering four gold medals coming from the Class A 50-m freestyle (32.20), 100-m freestyle (1:11.00), 100-m butterfly (1:21.30), 100-m backstroke (1:24.70), 200-m backstroke (3:04.90) events.
In the third leg, she ruled the 50-m butterfly (34.72), 50-m freestyle (31.69), and 50-m backstroke (34.41) event.
Meanwhile, tournament director Chito Rivera said the consistency of Diamante's performance proved the importance of having regular competitions aside from training.
"More tournaments mean more opportunities to discover young talents who may one day represent the country in international tournaments," said Rivera, who coaches the Jose Rizal University swimming team.
In 2020, Rivera joined Darren Evangelista, Joel Esquivel, Richard Luna, and Olympian Eric Buhain to form the COPA, which aims to help the country's grassroots development program by holding tournaments that are open to everyone and conducting seminars.
At present, the association has more than 300 coaches and 3,500 swimmers from 200 clubs nationwide. (PNA)