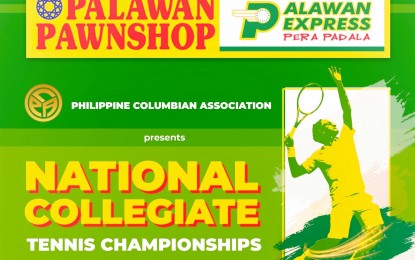 MANILA - University of the East (UE) players Jarell Edangga and Stephen Zion Guia beat their respective rivals Saturday to lead the men's singles quarterfinals of the Palawan Pawnshop National Collegiate Tennis Championships at the Philippine Columbian Association in Paco, Manila.
The top-ranked Edangga triumphed over Sebastian Santos of the University of Santo Tomas (UST), 4-2, 4-2, to advance against the University of the Philippines' Rafael Liangco, who ousted No. 5 Gabriel Gurria of Ateneo de Manila University (ADMU), 5-4(4), 0-4, 10-7.
The second-seeded Guia, on the other hand, stamped his class over Rucel Cero of National University (NU), 4-1, 4-0, to arrange a quarterfinal showdown with No. 6 seed Eric Jay Tangub of UST, who scored a 4-2, 4-2 victory over Norman Gaspar of UE.
Third seed Nilo Ledama of UST and fourth seed Loucas Julian Fernandez of UP also advanced to the next round.
Ledama clobbered Joshua Austria of UP, 4-1, 4-1, to set up a quarterfinal duel with No. 8 seed Ibarra Ortega of NU, who thrashed Herald Steve Aton of Adamson, 4-0, 4-0.
Fernandez, who outplayed Richard Bautista of UST, 4-1, 5-4, will face Alexis Acabo of UST, who hammered out a 4-1, 4-2 win over Zirach Mina of UP.
Meanwhile, the team event kicked off with defending University Athletic Association of the Philippines (UAAP) champion NU hacking out a 3-0 victory over De La Salle University-A in men's Group A.
Ortega won over Al Andrade, 8-6, in the first singles match; Cero and Feb Wendel beat RJ Virey and Mark Crisosto, 8-6, in the doubles match while Jude Andrei Ceniza demolished Manuel Banzon, 8-0, in the second singles match.
UST-B also notched its first win at the expense of UP-B, 2-1, in the other game,
In Group B, UST-A prevailed over DLSU-B, 3-0, and UE-B, 3-0, to share the lead with UP-A, which defeated DLSU-B, 3-0, and Adamson (2-1).
In other matches, Adamson trounced Ateneo, 2-1, and UE-B conquered Ateneo, 2-1. (PNA)