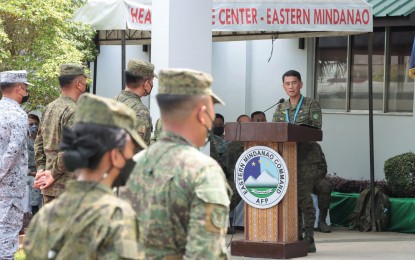 DAVAO CITY – Armed Forces of the Philippines (AFP) chief Lt. Gen. Bartolome Vicente Bacarro hailed the Eastern Mindanao Command (Eastmincom) for its victories against communist groups during his visit to its headquarters here on Saturday.
Bacarro said Eastmincom is a major contributor in the mission to attain peace and order.
One of the greatest achievements of Eastmincom is the declaration of the Davao Region as insurgency-free on October 12.
"One thing is definite: that the Eastern Mindanao Command has contributed a lot in the attainment of the mission of the Armed Forces of the Philippines. Hindi natin matatanggi 'yan (We cannot deny that). This is manifested by the reduction of different power factors of the enemy," Bacarro said during the "Talk to the Troops".
"In the soonest possible time, we will be able to declare strategic victory in some of the areas that fall within the joint operational area of the Eastern Mindanao Command," he added.
Lt. Gen. Greg Almerol, Eastmincom commander, presented their accomplishments this year under the campaign plan "Kalinaw Sidlakang (Peace East) Mindanao", according to a news release.
Military operations led to the neutralization of 706 members and supporters of the New People's Army (NPA), including 57 high-value targets, as well as the recovery of 598 firearms and 116 anti-personnel mines.
Eight NPA guerilla fronts and four vertical units were also dismantled while 56 villages were freed from NPA influence, thus the declaration of the Davao Region as insurgency-free.
"I am confident and proud to report to our Chief of Staff that we are on the right track in our campaign progress. But even as we recognize this accomplishment, we know very well that we cannot rest on our laurels for the ultimate victory is yet to be achieved," Almerol said in his speech.
He assured that there will be no letup in defeating the remaining NPA units. (With a report from Che Palicte/PNA)