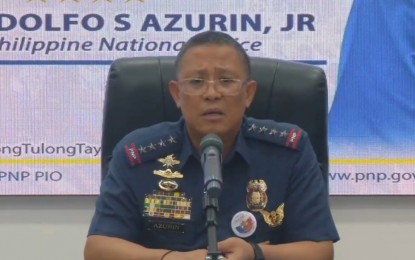 MANILA – The Philippine National Police (PNP) has confiscated some PHP9.7 billion worth of various illegal drugs since President Ferdinand R. Marcos Jr. assumed office in July this year.
"We are glad to note that since the assumption of the current administration, the PNP's aggressive campaign against illegal drugs already had 18,505 anti-illegal drug operations which yielded over PHP9.7 billion worth of illegal drugs and arrested 22,646 drug personalities," PNP chief Gen. Rodlfo Azurin Jr., told reporters on the sidelines of the signing of a memorandum of agreement (MOA) between PNP and non-government organization Battle Against Drugs (BAD) in Camp Crame, Quezon City on Monday.
Azurin also noted that only 46 suspects were killed during these operations.
"So with all the minimum caution, we advise our police officers, 'you do not endanger your life'. But definitely, when they are in danger, they have to defend themselves. As we can notice, the deaths are very minimal because we opt to focus on engaging other sectors. We are partnering with the religious sector so that in their level, they can engage the suspects at the barangay level so they can just surrender and stop their illegal activities," he said in mixed English and Filipino.
Azurin also recognized the President's full support for PNP's "more focused holistic approach" to putting a stop to drugs and criminality, which signifies the government's commitment to shaping up mechanisms in terms of improving the country's peace and order and safety environment for the people.
"The entire police force remains steadfast to the anti-illegal drugs programs of the government with the aim that Filipinos everywhere could enjoy peaceful society and embrace a greater sense of security by sustaining vigilant trust and confidence in our law enforcers," the country's top cop stressed.
He said the signing of a pact between the police force and the BAD through its founder and president, Dr. Danilo Bornales, aims to put an end to the drug menace that has been hindering the country's growth.
"As we sign this Memorandum of Agreement, we express our desire to support Battle Against Drugs to foster the government's genuine, sincere, and God-leading intention to sustain the fight against illegal drugs in the country. Let this accord serve as an instrument to further synergize our strategies and inter-operability schemes on how to defeat the growing complexity and threat of illegal drugs and criminal elements," Azurin noted.
Under the pact, the PNP and the BAD will join hands in exposing the evil effects of illegal drugs in the country through conducting trainings, symposiums and seminars in different public and private schools down to grassroots level of the community in collaboration with various government agencies and stakeholders.
"We also urge our concerned citizens, help us in our efforts to keep the community and our children's future safe from the threats of illegal drugs. Ang lahat ng ito ay patunay lamang ng umiigting pa nating hangarin na sugpuin ang kriminalidad sa bansa at sugpuin ang iligal na droga na unti-unting sumisira ng magandang kinabukasan ng ating mga kabataan (All of this is just proof of our growing desire to suppress crime in the country and suppress illegal drugs that are gradually destroying the bright future of our youth)," said Azurin.
He added that the PNP Internal Affairs Service (IAS) and Integrated Monitoring Enforcement Group (IMEG) are also working hand in hand in monitoring and implementing appropriate actions against erring personnel who will be found guilty, especially those engaging in drug-related activities.
He said the PNP puts great emphasis on effectively engaging all stakeholders and institutional partners on meeting our organizational goals especially in strengthening security, maintenance of peace, and promoting public order and safety.
"Guided by our Malasakit, Kaayusan at Kapayapaan tungo sa Kaunlaran Program (M+K+K=K) along with KASIMBAYANAN Program, we keep our hopes up that this undertaking would bring favorable economic growth and positive impact on the aggressive stance of the government of restoring security, peace and order," said Azurin. (PNA)