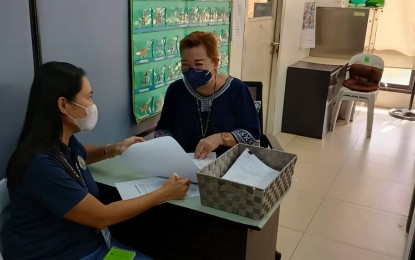 ILOILO CITY – A community of indigenous people (IP) in Barangay Lanit in Jaro district has availed of the Philippine Identification System Birth Registration Assistance Project (PBRAP) launched by the Philippine Statistics Authority (PSA) with the help of the city government.
Marivel Gargalicana, Local Civil Registrar Registration Officer II, said in an interview on Monday, at least 21 members of the Ati tribe with no birth certificates have visited the local office of PSA to register and get their certificates of birth.
"The first step, which is the gathering of names and confirming if they have birth certificates at the PSA office was completed. We already have an omnibus certification from PSA and we can now proceed with the registration," she said.
Gargalicana said most of the IP children are of school age, with some born outside of the city while other parents cited finances as the reason why they failed to register the birth of their children.
"So their reason was geographical and financial since they thought that securing a birth certificate is expensive and complicated," Gargalicana said.
Under the PBRAP in partnership with the city government, beneficiaries will receive copies of their registered birth certificates in security paper free of charge.
Meanwhile, Gargalicana said the Liga ng mga Barangay in the city will brief all barangay officials about the program following the signing of the memorandum of agreement on Oct. 11 between the city government and the PSA.
"They are the focal persons that will gather information, which is the first step of the PBRAP," she said.
The PSA has targeted to accommodate over 7,000 late birth registrants in the city.
PBRAP is one of the major projects of PSA which aims to increase the level of civil registration, especially in marginalized communities like IPs. One of the aspects of the project includes the provision of assistance in processing the delayed registration of births of the beneficiaries.
Aside from the PBRAP, the city government has been conducting massive information dissemination on the importance of birth certificates and how to secure them.
"The identity of a person starts with their birth certificate. You have no official name, you have no nationality and you will be invisible to the government if you have no birth certificate," Gargalicana said.
The document is a requirement to avail of the social benefits provided by the government, to get married, and to work or travel abroad. (PNA)