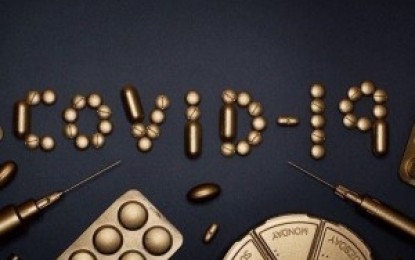 MANILA – The positivity rate, or the number of persons testing positive for coronavirus disease 2019 (Covid-19), in the National Capital Region (NCR) decreased to 7.5 percent as of Nov. 12.
Over Twitter on Monday, OCTA Research Group fellow Dr. Guido David said the region's positivity rate in the previous week was 8.2 percent.
Eight other areas had a decrease in the positivity rate for the same period apart from the NCR.
These include Batangas with 6.3 percent from 7.3 percent; Cavite with 10.1 percent from 13 percent; Davao del Sur with 8.7 percent from 15.3 percent; Iloilo with 10.2 percent from 12.6 percent; Misamis Oriental with 24.6 percent from 28.8 percent; Rizal with 10.3 percent from 14.5 percent; South Cotabato with 8.2 percent from 12.7 percent; and Zambales with 7.6 percent from 11.3 percent.
Last week, David said the decrease in Covid-19 numbers in NCR and other highly populated areas could be attributed to the public's knowledge about self-protection as coronavirus continues to mutate into different and more transmissible variants.
On the other hand, an increase in positivity rate was seen in three areas -Cagayan from last week's 8.4 percent to 14.2 percent; Camarines Sur, from 29.8 percent to 33.3 percent; and Pampanga, 9.6 percent to 11.2 percent. (PNA)