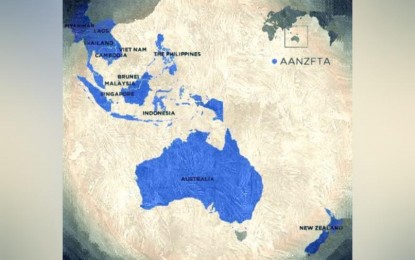 MANILA – With the substantial conclusion of negotiations to enhance the ASEAN-Australia-New Zealand Free Trade Agreement (AANZFTA) during the ASEAN Summit in Phnom Penh, Cambodia last week, the Department of Trade and Industry (DTI) is optimistic that the upgraded trade deal will usher post-pandemic recovery for the country.
"The substantial conclusion of the upgrade negotiations marks another milestone for both ASEAN and Australia-New Zealand, as we gain another high-quality FTA. The inclusion of a Chapter on Trade and Sustainable Development and MSMEs (micro, small and medium enterprises) is expected to fuel inclusive growth and integration of businesses into the global value chain," DTI Secretary Alfredo Pascual said in a statement Monday.
The negotiations to enhance the AANZFTA started in September 2020 with the aim to accelerate post-pandemic recovery for ASEAN, as well as its dialogue partners Australia and New Zealand.
The trade deal upgrade includes new chapters and provisions on MSMEs, trade and sustainable development, and education services, as well as enhanced provisions on electronic commerce, customs procedures and trade facilitation, trade in goods, rules of origin, trade in services, and investments.
The parties target to sign the second protocol to amend the AANZFTA next year.
AANZFTA is ASEAN's first regional trade agreement. Aside from AANZFTA, ASEAN is implementing another regional trade deal with Australia and New Zealand through the Regional Comprehensive Economic Partnership (RCEP), which entered into force this year.
The Philippines started to implement the AANZFTA in 2010.
The DTI said Australia and New Zealand ranked 16th and 28th trading partners, respectively, for the Philippines in 2021. (PNA)