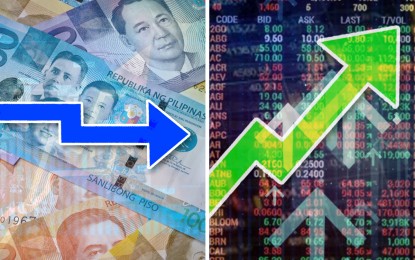 MANILA – The main equities index rallied anew on Tuesday amidst investors' wait-and-see stance regarding the path of Federal Reserve's key rates while the peso finished the day sideways against the United States dollar.

The Philippine Stock Exchange index (PSEi) inched up by 1.01 percent, or 64.18 points, to 6,418.94 points.

All Shares trailed with an increase of 0.81 percent, or 26.99 points, to 3,379.58 points.

Most of the sectoral gauges also continued their rise, led by Holding Firms after it increased by 1.94 percent.

It was followed by Services, 1.49 percent; Mining and Oil, 1.48 percent; Industrial, 1.40 percent; and Financials, 0.17 percent.

Only the Property index shed during the day with a loss of 0.59 percent.

Volume reached 725.68 million shares amounting to PHP5.13 billion.

Gainers led losers at 102 to 83 while 49 shares were unchanged.

"Investors continued to buy into the Philippine market, as they remained wary on Fed's remarks on rate hikes going forward," said Luis Limlingan, Regina Capital Development Corporation (RCBC) head of sales.

This, after Federal Reserve Vice Chair Lael Brainard said the central bank may soon slow its tightening moves.
Fed Governor Christopher Waller also said rates will continue to go up but this should not be considered as softening.

Meanwhile, oil prices fell "dragged down by a firmer dollar and record-high coronavirus cases in major Chinese cities that dashed hopes of the reopening of the economy of the world's biggest crude importer."

Limlingan said Brent crude oil futures slipped by 3.58 percent and West Texas Intermediate (WTI) futures contracted by 4.25 percent.

Meanwhile, the local currency finished the day sideways against the US dollar at 57.21 from day-ago's 57.28.

It opened the day unchanged at 57.3 and traded between 57.47 and 57.2. The average level for the day stood at 57.349.

Volume reached USD766.9 million, higher than the previous session's USD720.63 million.

Rizal Commercial Banking Corporation (RCBC) chief economist Michael Ricafort said the peso benefited from the continued inflows of remittances from overseas Filipino workers (OFWs), which is a normal development as the year ends.

Ricafort said the dollar inflows from Filipino workers abroad "also help support consumer spending, which accounts for at least 73 percent of the economy and also a bright spot for the economy."

He said depreciation of the US dollar against major currencies, drop in global crude oil prices and another gain for the PSEi also buoyed the local currency.

"Market sentiment also supported after the talks between US President (Joe) Biden and Chinese President Xi (Jinping) to ease tensions and stabilize the ties between the two countries/biggest economies of the world; as well as measures by China to support its real estate/property sector and to ease some covid restrictions recently," he added.

Ricafort projects the peso to trade between 57.10 to 57.30 against the US dollar on Wednesday. (PNA)