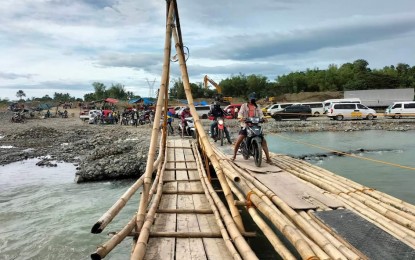 SAN JOSE DE BUENAVISTA, Antique – Light vehicles are now allowed to pass the Oyungan Bailey bridge in Miag-ao, Iloilo following a successful dry run that was conducted on Monday.
Antique Provincial Disaster Risk Reduction and Management Officer (PDRRMO) Broderick Train, in an interview, said light vehicles such as cars and pickup are being allowed to pass by the bridge."
However, passengers of big public transportation like the Ceres Liner are asked to disembark before the vehicle is allowed to pass. The passengers will again board at the other side of the bridge.
The Bailey bridge was temporarily constructed by the Department of Public Works and Highways (DPWH) after the permanent bridge was rendered impassable due to damages it incurred due to Severe Tropical Storm Paeng.
Meanwhile, a bamboo bridge was also constructed in lieu of the damaged Paliwan Bridge connecting the towns of Laua-an and Bugasong in Antique.
Train said the municipal DRRM officers of Bugasong and Laua-an were advised to come up with a network so there will be early warning for commuters walking over the bamboo bridge or vehicles crossing the Paliwan River to prevent a possible drowning incident.
"We appeal to the residents of the upstream Barangays Yapo and Igsoro in Bugasong to immediately inform their Municipal Disaster Risk Reduction and Management Office (MDRRMO) once there is heavy rain or possible flash flood that would happen," he said.
Paeng has caused damages to Oyungan and Paliwan bridges in Iloilo and Antique, respectively, thus cutting transportation access to the southern part of Antique from Iloilo province and from the northern part of Antique, which is adjacent to Aklan province. (PNA)