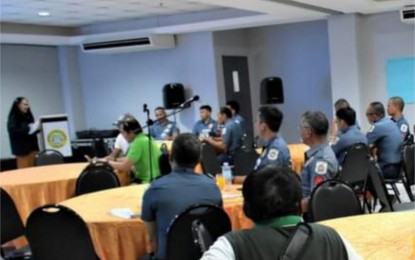 BACOLOD CITY – Police environment desk officers (PEDOs) in various stations of the Negros Occidental Police Provincial Office (NOCPPO) have been trained to boost the province's campaign against illegal extraction and transport of sand and gravel materials.
Lt. Judesses Catalogo, public information officer of NOCPPO, said on Tuesday the new personnel assigned to the stations attended competency training in the implementation of related environmental laws.
"They need the training to (further) understand these laws," he added during an online briefing.
Personnel of the Philippine National Police (PNP) tasked as PEDOs, together with the enforcement teams of the Regulatory Services Division (RSD) of the Provincial Environment Management Office (PEMO), recently attended the capacity enhancement trainings on the Provincial Tax Ordinance 2017-001, or "An Ordinance Enacting the 2017 Provincial Revenue Code of the Province of Negros Occidental", and related environmental laws.
Aside from strengthening the campaign, the activity also aimed to establish an enforcement network stationed in each local government unit (LGU).
The RSD is mandated to regulate the extraction of sand, gravel and quarry resources in sustainable means.
The Task Force Balas Bato is PEMO's enforcement arm tasked to ensure that the extraction, transport, and sale of sand and gravel, and mineral resources, within the province, follows the provisions of the Provincial Tax Ordinance 2017-001.
RSD head Rowena Parcon said that with an established network of enforcers across the province, the response time on violations can be lessened increasing the probability of apprehensions.
"This will ensure effective and efficient enforcement operations," she added.
Local issuance of quarry, sand and gravel permits for areas below five hectares and small-scale mining permits is a devolved function under the Local Government Code of 1991.
Reports said some applicants and permittees are circumventing the law by applying multiple applications when the ordinance provides that a qualified person may only be granted one permit in any LGU at any one time.
PEMO head Julie Ann Bedrio acknowledged the support of PNP and other partners for their support of the programs of the province aimed at protecting the environment. (PNA)