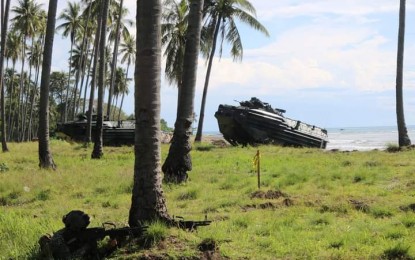 MANILA – Having the capability to conduct amphibious operations will allow personnel of the Armed Forces of the Philippines (AFP) greater mobility and flexibility.
AFP chief Lt. Gen. Bartolome Vicente Bacarro made this remark in his message read by Western Command (Wescom) head, Vice Admiral Alberto Carlos, during the conduct of amphibious operations in Barangay Samariñana, Brooke's Point, Palawan on November 14.
"As an effect of this joint exercise, our troops will acquire and enhance strategic mobility and flexibility, because the sea allows our troops maximum strategic, operational, tactical mobility, and flexibility. With an enhanced ability to strike at the enemy's weakest point," he said in a statement posted on the Wescom Facebook page late Tuesday.
An amphibious operation is a military operation launched from the sea by an amphibious force to conduct ground operations in a hostile environment.
An amphibious force is an amphibious task force and amphibious landing force organized, trained, and equipped for amphibious operations. It is a combined force composed of sea, air, and land components.
The amphibious operations are part of the ongoing "DAGIT-PA" exercises, scheduled from November 7 to 18.
"Not only that but the projection of power ashore will also be enhanced. Hence, the only way to truly project power and influence ashore is to introduce our ground combat troops. And most importantly, if all else fails, the ability to make a forceable entry from the sea is the most important strength of amphibious operations," Bacarro added.
With the AFP gearing towards a more multi-capable and modern defense force, he said, the amphibious operation has shed light on what Philippine maritime forces are capable of and what it could be in the future while integrating with other major services in the joint conduct of operations.
"On the other hand, as we conduct this joint amphibious operations exercise, it clearly (sets) forth what is mandatory in the success of our joint amphibious operations, which is the unity of effort and operational coherence among AFP units," he added.
Bacarro said another purpose of the exercise is to recognize and prevent initial vulnerabilities, and technical, operational, and logistical problems.
"You have also learned the importance of accurate, timely, and comprehensive military intelligence that incorporate weather and hydrographic conditions in the area of operations. Therefore, you have identified the potential hazards that will affect our joint amphibious operation, and from there, utilize that as part of the basis for planning the amphibious operations," he said.
"DAGIT-PA", which stands for "Dagat, Langit at Lupa", entails the participation of the three major services of the AFP – the Navy, Air Force, and Army – as employed in joint operations.
This year's "DAGIT-PA" is the sixth iteration of the joint exercise unilaterally conducted by the AFP.
Four major events will highlight the exercise: table top exercise, staff exercise, cyber defense exercise, and field training exercises (FTX) in various locations in Palawan.
Except for the FTX, all training events will be conducted in Camp General Artemio Ricarte in Puerto Princesa City.
Bacarro makes first visit as AFP chief in Wescom HQ
As this developed, Bacarro made his first official at Wescom headquarters at Camp Gen. Artemio Ricarte, Puerto Princesa, Palawan Tuesday.
He was given customary honors upon his arrival and did the traditional tree planting as part of Wescom's commitment to environmental preservation.
"Afterwhich, Vice Admiral Carlos presented the Command briefing and security updates to the Chief-of-Staff AFP and his party from the J-Staff of the General Headquarters," Wescom spokesperson Maj. Cherryl Tindog said.
The AFP chief lauded Wescom for paving the way, together with stakeholders, towards an insurgency-free Palawan, she added.
Aside from the gains in internal security, Carlos discussed with Bacarro the current and emerging security situation in the West Philippine Sea (WPS).
Bacarro assured Carlos of General Headquarter's solid commitment and support to Wescom's joint operations in securing and protecting its territorial integrity and the nation's interests in the WPS.
"After the command briefing and updates, Lt.Gen. Bacarro also graced the unveiling ceremony of Wescom's strategy map for its transformation journey for Base Camp 2023-2028. Said strategy encompasses the institutionalized functions, resources, expectations and messaging of the Command that are aligned with the CSAFP (Chief-of-Staff, AFP) Scorecard towards being world-class and a source of national pride," Tindog said.
Immediately after the unveiling ceremony, Bacarro personally talked with the men and women of Wescom to boost their morale and expressed words of inspiration and motivation, following his mantra of "doing common things uncommonly well".
"We are very grateful to our Chief-of-Staff for visiting us here in Wescom. He has boosted our morale and given inspiration to us all in performing our sworn duties in our area of responsibility, as well as in our day-to-day lives," Carlos said. (PNA)