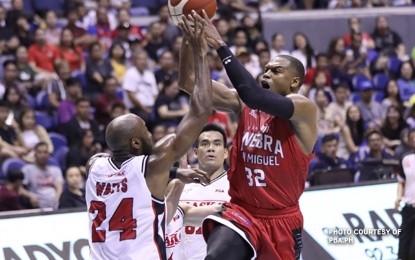 MANILA – Philippine Basketball Association (PBA) import player Justin Donta Brownlee, who is a member of the Barangay Ginebra San Miguel basketball team, has hurdled a key step to becoming a Filipino citizen.
This, after the House Committee on Justice chaired by Representative Juliet Marie Ferrer (4th District, Negros Occidental) on Wednesday approved House Bill (HB) No. 825, a measure seeking for his naturalization as a full pledged citizen of the Philippines.
HB 825, which was authored by Rep. Michael Romero, Ph.D. (Party-list, 1-PACMAN), was approved after a brief discussion on Brownlee's personal information and matters surrounding his desire and willingness to become a member of the Filipino community.
The hearing actually took around 30 minutes before Cavite Fourth District congressman Pidi Barzaga moved for the approval of the bill. Several government agencies such as the Department of Justice (DOJ), Department of Foreign Affairs (DFA), National Bureau of Investigation (NBI), and Bureau of Immigration (BI) had no objection over the import's naturalization.
The approval of Brownlee's citizenship on the first reading marked the initial step in his bid to play for Gilas Pilipinas in international competitions.
Romero said Brownlee, an American professional basketball player, has brought enormous pride and joy to the Philippine Basketball Association, as well as to all basketball enthusiasts in the country.
Brownlee said he has a lot of love from the fans and the people of the Philippines, "and it would be great to be a part of the country, and keep helping out as much as I can with the national team."
Brownlee, who was born on April 23, 1988 in Georgia, USA, thanked committee chair Ferrer after the hearing: "Maraming salamat po."
SBP hails House panel's move
Samahang Basketbol ng Pilipinas president Al Panlilio thanked the House Committee on Justice for swiftly passing Brownlee's naturalization bill.
"The Samahang Basketbol ng Pilipinas and I, in behalf of all basketball-loving Filipinos who eagerly await the sixth and final window of the FIBA World Cup Asian Qualifiers at the Philippine Arena in February next year, would like to thank the House Committee on Justice, chaired by Rep. Juliet Marie de Leon Ferrer, for approving on initial hearing the application for naturalization of Justin Brownlee," SBP president Al Panlilio said in a statement on Wednesday night.
Panlilio also thanked Romero and Deputy Speaker and Antipolo Rep. Robbie Puno and other members of the Justice Committee, for their prompt approval of the bill.
There is no timeline yet on when the second reading will be made, although Ferrer asked Congress to approve the bill in the final reading before they take a break from December 14 to January 22.
The SBP hopes that Brownlee would attain his Filipino citizenship in time for the sixth window of the FIBA World Cup Qualifiers, in which he is eyed as Gilas Pilipinas' naturalized player.
"As celebrated as Gilas Pilipinas' Middle East victories over Jordan and Saudi Arabia in Window 5 of the Asian Qualifiers were, the hometown crowd, I believe, would want nothing more than to savor two more Gilas PH triumphs – against Lebanon and Jordan – right in our own country to wrap up preparation and as (a) prelude to the FIBA World Cup in August 2023. Hopefully, we can achieve that, and this time with Justin Brownlee leading the way," Panlilio said.
If approved at the congressional level, the Senate can now tackle its version of the Brownlee naturalization bill authored by Senator Bato dela Rosa.
If approved as well, the agreed upon bilateral version of the bill will be transmitted to President Ferdinand R. Marcos Jr. for the final signature to turn it into law.
While the SBP is waiting for it, Panlilio is already thanking the legislators for their quick action.
"Again, my sincerest thanks to the House and the Senate for their unbridled support to Philippine basketball," Panlilio said. (With a report from Ivan Stewart Saldajeno/PNA)