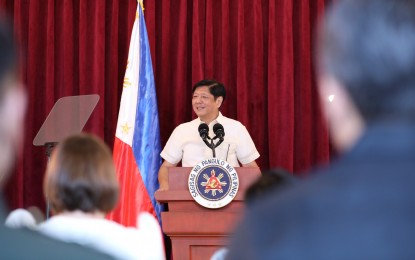 MANILA – Stronger public-private partnerships (PPPs) are vital in revitalizing the economy amid the coronavirus disease 2019 (Covid-19) pandemic and other global challenges, President Ferdinand R. Marcos Jr. said on Thursday.
Marcos issued the statement during the Asia-Pacific Economic Cooperation (APEC) CEO Summit in Bangkok, Thailand, as he stressed that strengthening the partnerships between the government and the private sector is the "centerpiece" of the Philippines' economic transformation bid.
"Let us continue to build on APEC's long-running partnership with the private sector and be increasingly in lockstep with the APEC Business Advisory Council which is the voice of the business community in the Asia-Pacific," he said in his opening remarks.
"APEC's value and relevance are its ability to work with business. There is no other organization or forum that actively seeks the concerns of business the way APEC does. And this tight engagement is what makes APEC unique, functional and important. And therefore, it is an engagement that must not only be preserved but it must be strengthened," he added.
Marcos said balancing the "very healthy" competition and cooperation among APEC member economies will bring prosperity and progress to the Asia-Pacific region.
He added that agility is the "key to the future in the long term" for the region, as well as all the countries in the world.
"We must have our sights set high for APEC and for all member countries. But, whatever plans we may have for our countries for our economies, those will come to naught unless they are within the context of peace in the region and in the world," he said.
Marcos said public and private sectors must work together to develop more infrastructure, energy and agriculture projects to empower and strengthen the economy.
In a meeting with Thai conglomerate CP Group on Wednesday, Marcos said his administration seeks partnerships with the private sector, admitting that his government cannot transform the Philippine economy alone.
Marcos' meeting with CP Group bore fruit after Thailand's biggest private firm pledged to make additional investments in the Philippines in aquaculture, rice, and swine production.
To date, CP Group has a total of USD2 billion investment in the Philippines.
Marcos thanked the CP Group for its continuing interest in the Philippines and stressed that there is still so much potential and space for growth that could be explored with the Thai company's engagement and cooperation.
Marcos earlier reported that as of August 2022, the Philippine government has recorded a total of 74 PPP projects in the pipeline, with a combined estimated cost of PHP2.25 trillion. (PNA)