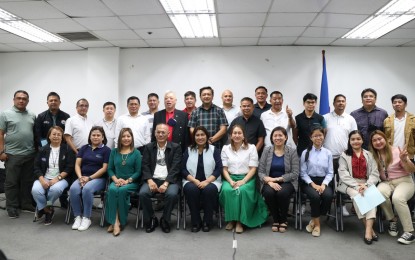 MANILA – The Presidential Commission for the Urban Poor (PCUP) has called on its partners from the business sector, academe, and non-government organizations to help the commission in protecting the welfare of the poor Filipinos.
The call was made, after PCUP chairperson Undersecretary Elpidio Jordan Jr., accompanied by several PCUP officials, met with around 20 goodwill ambassadors at the commission's central office in Quezon City on Wednesday.
In a statement on Thursday, Jordan presented to the goodwill ambassadors the four banner pro-poor programs, which include housing initiative "Piso Ko, Bahay Mo," resource mobilization "Lingkod Agapay Maralita" (LAM), urban poor data generation and collaboration and partnership program.
During the meeting, the PCUP ambassadors expressed full support for the commission and pledged to provide assistance to the marginalized and underprivileged sectors, particularly the urban poor and informal settler families (ISFs).
Jordan thanked the PCUP's partners for their commitment to promote the commission and its programs for the underprivileged and the urban poor.
"I am happy to note that we have been able to gain such general support as we realize that we can only be successful in our mandate if we remain steadfast in protecting the rights of our less fortunate countrymen and in linking them to those who have the capability to provide valuable assistance to those who are in desperate need," he said.
Jordan said the assistance from the PCUP goodwill ambassadors would benefit individuals and organizations accredited by the commission.
"With our ambassadors sharing our vision of empowering urban poor communities, they will help generate the support that the PCUP needs and likewise look for other partners who may provide assistance and services aimed at filling the gaps in alleviating the plight of urban poor families from poverty and ensure that they will become economically productive as partners in nation-building," Jordan said.
The PCUP is expected to implement "Piso Ko, Bahay Mo," LAM, urban poor data generation, and collaboration and partnership program in 2023.
Under the "Piso Ko, Bahay Mo" program, the urban poor families (UPFs) affected by court-ordered demolition and eviction will be given assistance through the provision of lots where houses may be built with complete amenities.
LAM, on the other hand, aims to address the economic needs of UPFs by stimulating savings mobilization, which would be implemented in partnership with the private sector.
The implementation of the urban poor data generation will allow the establishment of satellite offices in cities and municipalities nationwide to strengthen the commission's intervention in urban poor communities through the creation of a database.
There will also be collaboration and partnership to institutionalize the call for Goodwill Ambassador Program.
On Tuesday, the PCUP expressed confidence that it is on the right track to provide better services to the poor. (PNA)