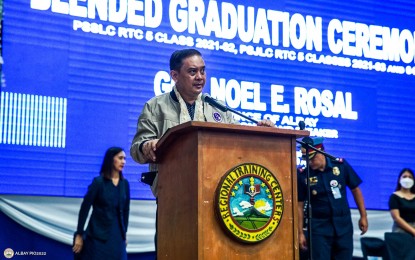 MANILA – The Commission on Elections (Comelec) on Friday denied the motion for reconsideration (MR) filed by Albay Governor Noel Rosal in the petition for disqualification filed by defeated Legazpi City candidate for councilor, Joseph Armogila.
The Comelec en banc said it "found no cogent reason to reverse the findings" of the Comelec First Division in September.
Comelec spokesperson John Rex Laudiangco said the decision of the en banc is final but Rosal may elevate the matter to the Supreme Court (SC) "via a reasonably filed petition for certiorari."
"The en banc's decision is final, but has yet to become final and executory," he said in a statement. "A certificate of finality and a writ of execution will ensue."
The ruling stated that the MR "neither contains any new matter or issues, nor was it able to establish that the Assailed Resolution was based on insufficient evidence or that the same is contrary to law."
Section 1, Rule 19 of the Comelec Rules of Procedure cites two grounds for an MR to be denied: the evidence is insufficient to justify the decision, order or ruling; or the decision, order or ruling is contrary to the law.
The MR sought to assail the Resolution of the Division, promulgated on Sept. 19, which granted the petition to disqualify Rosal.
The First Division did not find Rosal liable for vote buying but was in violation of Section 261(v) of the Omnibus Election Code, which prohibits the release and disbursement or expenditure of public funds during the 45-day election ban.
It added that Rosal's act of giving cash assistance to tricycles and senior citizens in Legazpi City was without prior authority from the Comelec.
Rosal's wife, Legazpi City Mayor Geraldine Rosal, was likewise ordered disqualified by the Comelec for the same offense.
Mayor Rosal previously said the decision came as a surprise, especially the portion where she was found guilty because of "indispensable cooperation" in the distribution of the cash assistance while Governor Rosal was still Legazpi mayor.
"It is settled in law that a person becomes a principal by indispensable cooperation when he performs an act, without which the offense would not have been accomplished," she said in an interview in October. " I cannot fathom how my alleged appearance during the questioned event was indispensable, considering that it would have pushed through just the same with or without my appearance."
The Rosals have yet to issue a statement as of posting time. (PNA)