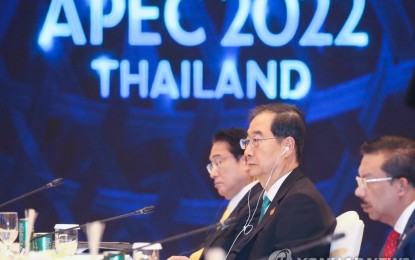 BANGKOK – Prime Minister Han Duck-soo called on Pacific Rim leaders on Saturday to make efforts to strengthen the multilateral trade regime and build stable supply chains during the Asia Pacific Economic Cooperation (APEC) summit in Thailand, his office said.
Han made the remarks during the plenary session of the two-day summit taking place this week in Bangkok, also asking APEC member economies to work together to make headway in the discussions for an envisioned region-wide free trade area, known as the Free Trade Area of the Asia Pacific (FTAAP).
"APEC should make efforts to strengthen the multilateral trade system centering on the World Trade Organization," Han was quoted by his office as saying.
"We ask APEC member states to make efforts to advance discussions on the FTAAP," Han said, adding that Korea will continue to promote projects to strengthen the negotiating capacity of developing countries to advance related discussions, according to his office.
The idea of creating the FTAAP has been discussed at APEC meetings for many years, but little progress has been made due to disagreement over the range of areas, such as trade, investment and labor, that should be covered in the FTAAP.
Han voiced the need for cooperation to bolster the resilience of global resource supply chains and pledged South Korea's active participation in such efforts.
After the plenary session, Han held a luncheon meeting with key Thai businesspeople, including Soopakij Chearavanont, chairman of CP Group, and discussed business cooperation, his office said.
Han is scheduled to arrive back in Seoul on Sunday.
This is the first APEC summit in four years to be held in person. An APEC summit that was scheduled to be held in Chile in 2019 was called off and was held virtually in 2020 and 2021 due to the pandemic. (Yonhap)