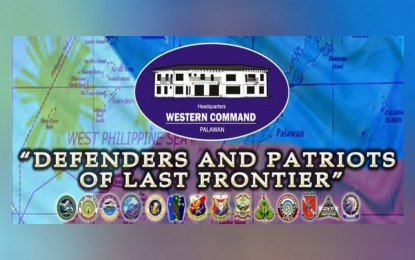 MANILA – The Puerto Princesa, Palawan-based Western Command on Monday reported that the China Coast Guard (CCG) interfered with the efforts of its personnel to recover an unidentified floating object spotted near Pag-asa Island Sunday.
"Wescom received a report from Naval Station Emilio Liwanag (NSEL) on November 20, 2022 stating that around 6:45 a.m., NSEL personnel noticed through long-range camera an unidentified floating object drifting about 800 yards west off Pag-asa Island," Wescom chief Vice Admiral Alberto Carlos said in statement.
He added that NSEL personnel immediately proceeded to the site to investigate, aboard a rigid-hulled inflatable boat (RHIB). As observed by the team, the object was drifting towards Pag-asa Island's Cay 1 sand bar due to strong waves and currents.
Carlos said the unidentified floating object was described as "metallic" and similar to the fragments recovered in Busuanga some two weeks ago.
The official was referring to suspected debris from a recent Chinese rocket launch that has been found at sea off two provinces -- Busuanga island in western Palawan and in Calintaan town in Occidental Mindoro province.
The team immediately retrieved the floating object, tied it securely to their boat and started towing it back to NSEL.
"However, as the NSEL team was towing the floating object, they noticed that (a) CCG vessel with bow number 5203 was approaching their location and subsequently blocked their pre-plotted course twice. CCGV-5203 then deployed its RHIB," the Wescom chief said.
He said that the Chinese RHIB then "forcefully retrieved" the unidentified floating object by cutting the towing line attached to the NSEL rubber boat, and towed the object back to its mother ship.
Carlos said NSEL personnel decided to return to Pag-asa Island shortly after the incident. No member of the team was injured. "This information has been reported to the National Task Force (for) West Philippine Sea (NTFWPS) for appropriate action," he said.
Wescom spokesperson Maj. Cherryl Tindog said the NSEL personnel decided to return to Pag-asa Island as the situation was "not a matter of life and death," adding that it is now up to the NTFWPS to fully assess the incident and decide on appropriate actions, which includes whether there will be protests to be filed.
Meanwhile, the Department of Foreign Affairs (DFA) said a review will be conducted when asked if the Philippine government has already lodged a diplomatic protest.
"The DFA is aware of the incident and awaits the detailed reports from maritime law enforcement agencies. A thorough review will be conducted," DFA Spokesperson Ma. Teresita Daza said in a text message. (With additional report from Joyce Ann Rocamora/PNA)