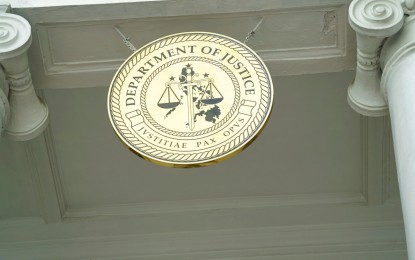 MANILA – The Department of Justice (DOJ) on Monday clarified that one of its senior officials who used to represent an accused in the Dengvaxia dengue vaccine issue has recused himself from the cases early on.
In a statement sent to the media, DOJ spokesperson Mico Clavano reiterated that the DOJ "shall resolve the pending petitions for review involving the Dengvaxia cases in accordance with law and jurisprudence, and based solely on the evidence presented by the parties."
The clarification was prompted by a statement issued by Public Attorney's Office (PAO) chief Persida Acosta who claimed impropriety and undue influence on the part of DOJ Undersecretary Jesse Hermogenes Andres.
"There are existing rules and mechanisms on avoidance of conflict of interest and the DOJ will strictly implement them," the DOJ said.
Andres withdrew as counsel for former Department of Health secretary and now Iloilo (1st District) Representative Dr. Janette Garin in May.
Garino is a co-accused in the case of reckless imprudence resulting to homicide pending before the Quezon City Metropolitan Trial Court Branch 133.
She was originally represented by the Andres Marcelo Padernal Guerrero & Paras Law Office.
"The Dengvaxia complaints would be resolved purely on the merits of the case. In fact, even after the assumption of Usec. Andres as DOJ Undersecretary, all Dengvaxia complaints were filed in court, except those similarly dismissed in the past for failure to present an actual vaccination card," the DOJ said.
Likewise, in a letter dated July 7, Andres forwarded to the Office of the Justice Secretary Appeals Management Office the records of 16 Dengvaxia cases pending before the DOJ, citing that he has inhibited from the case.
In her motion filed in court, Acosta accused the entire National Prosecution Service of bias and conflict of interest because Andres is part of the DOJ.
Acosta said PAO should be allowed to take over the prosecution of the cases.
"This proposal is contrary to law and is not within the charter mandate of PAO. There is neither factual nor legal basis for the disqualification of the DOJ," the DOJ said.
PAO represents the families of individuals, including schoolchildren, who claimed the deaths were caused by the anti-dengue vaccine.
The Philippines embarked on a mass immunization campaign against dengue fever in 2016 using the vaccine manufactured by the French pharmaceutical Sanofi Pasteur.
Nearly two years later and with about 800,000 already vaccinated, Sanofi announced that Dengvaxia may cause adverse effects in those who have not had previous dengue infection. (PNA)