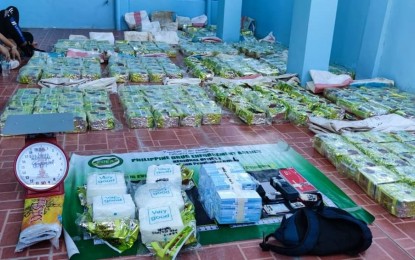 MALASIQUI, Pangasinan – The Philippine Drug Enforcement Agency (PDEA) seized PHP2.7 billion worth of shabu and a variety of marijuana in their operations from January to Nov. 15 this year.
In an interview on Monday, PDEA Pangasinan provincial head Rechie Camacho said they have confiscated 360 kilos and 774 grams of shabu valued at PHP2.45 billion.
Camacho said 2.6 kilos of dried marijuana, 651 grams of marijuana kush (high-grade value marijuana), and 600-milliliter marijuana oil worth PHP2.4 million were also seized.
He said they have arrested 34 high-value targets and conducted four high-impact operations, including the arrest of four individuals --one of them a Chinese national, in a buy-bust in Pozorrubio town in August.
Camacho said there are now six Balay Silangan in the province. However, only one is operational, to date.
"Every local government unit in the country is required to establish the Balay Silangan to attain drug-cleared status," he said.
The initial clients of the center will undergo general interventions like continuing education, health awareness, psychological, spiritual and physical activities, such as counseling, moral recovery, values formation and personal and life skills, he added.
Asingan, Balungao, Basista, Sison, Umingan towns, and San Carlos City have established their Balay Silangan but only Umingan's center is operational.
Camacho said of the total 1,272 affected barangays in the province, 1,081 were cleared while some 191 are yet to be cleared.
He said of the total 47 drug-affected towns and cities, 28 were cleared while 19 are yet to be cleared.
"We continue to work hard together with other government agencies and the local government units to wage war against illegal drugs in Pangasinan," he added. (PNA)